Before the COVID-19 pandemic paused international travel and made social distancing the new normal, Carol and Will Gibson were among 20 volunteers from across Canada who embarked upon a trip to Cambodia with Rotary Wheels for Learning.
The Rotary Wheels for Learning Bicycle Distribution Program is an international humanitarian aid project, led by the Rotary Club of Gravenhurst, which provides bicycles to children in rural Cambodia to enable them to attend school. This was the program's eighth year.
"Most [of us]were from Ontario," said Carol, who was among four participants from the Huntsville community, including Gerri Mar, Bryan Loxton, and Carol's husband Will, a Rotarian for 18 years.
The trip, in late January and early February, started in Phnom Penh, and combined sightseeing and cultural experiences with the aid project, which included stops at eight different bike distribution centres across Cambodia.
"A typical bike build day would last six to eight hours," Carol said. "We built over 100 bicycles at each location. The days were long, hot, and exhausting but definitely worth it!"
Bicycles built for the program had been sponsored at a cost of $50 each. "My main job was to attach baskets and bells to the bicycles," she said. "Once the bicycles were ready, there would be a ceremony, and then the bikes were given to the students."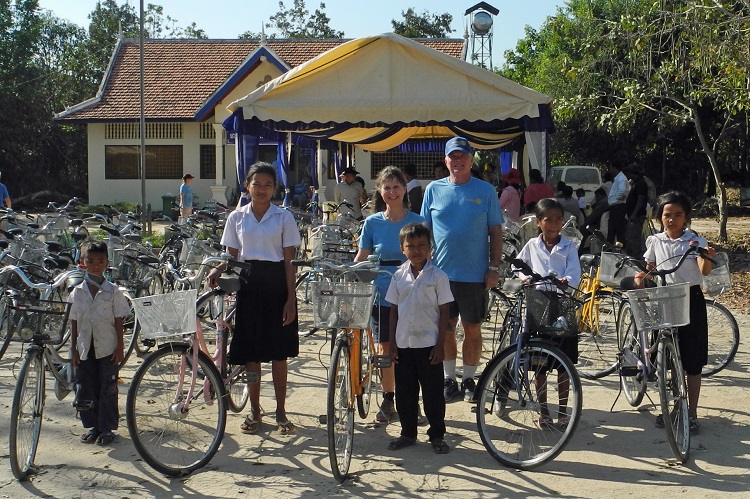 Carol and Will were responsible for taking photos of the sponsored students with their new bikes and emailing one along with a thank you note to each sponsor. Among Carol's most memorable experiences was "interacting with the children at the schools and seeing their smiling faces as they pedaled off on their new bikes."
Like many programs that combine international tourism with volunteering, the humanitarian trip afforded the travellers opportunities to see much of the Cambodian countryside. Starting in Phnom Penh, the group travelled northwest to the areas of Siem Reap and Battambang before heading south to Kep National Park and beach area, and finally returning to Phnom Penh. Some of the tourist destinations and activities included a Mekong River Cruise, touring the Choeung Killing Fields, taking a Khmer cooking class, and visiting Phnom Tamao Wildlife Rescue Center. Visiting several local temples was a highlight of the trip for Carol, particularly when she experienced the sunrise over Angkor Wat.
Carol, an active local community member as the current president of the Huntsville Festival of the Arts and also president of Ostomy Muskoka, is no stranger to combining travel with humanitarian aid. "This is the second humanitarian trip that I have been on. In February 2017, I went to Lesotho, Africa with Help Lesotho. It was a life-changing experience," she said. "I was able to do so much there to help, and I was also able to meet the girls who I had sponsored so they could attend high school. I knew when I came home that I definitely wanted to go help somewhere again!"
At the end of their Cambodian adventure, Carol and Will took the opportunity for a short side trip to visit former Rotary exchange students before returning home. "We went to Thailand to visit our first Rotary exchange student. Tae was in Huntsville [with us]in 2003. He was an incredible tour guide and showed us the highlights of Bangkok." Carol and Will were fortunate to arrange a meeting with another former exchange student, Eric, in Taipei while en route to Canada.
Reflecting at home, long after the trip ended, Carol has fond memories of her experience abroad, knowing she was able to help others while experiencing another culture. When asked if she would travel again with a program such as the Rotary Wheels For Learning, she doesn't hesitate. "I would definitely recommend this trip."
To see more photos of the group's trip, visit the Rotary Wheels for Learning (RWFL) Facebook page.
Don't miss out on Doppler!
Sign up here to receive our email digest with links to our most recent stories.
Local news in your inbox three times per week!
---