Welcome to Wayback Wednesday sponsored by Cavalcade Color Lab! Every week, we'll be sharing a vintage photo and asking our readers to chime in with anything you can recall about the photo, other related memories, or even a funny caption. Have some vintage photos of your own? Send them to [email protected] and we may share them with our readers!
Scroll down to see last week's photo.
This vintage postcard depicts one of the runs at Hidden Valley Ski Club (now Hidden Valley Highlands Ski Area). We have no other details — can you help identify the run or the date of this photo?
Wayback Wednesday is sponsored by Cavalcade Color Lab
Last week we shared this photo with you: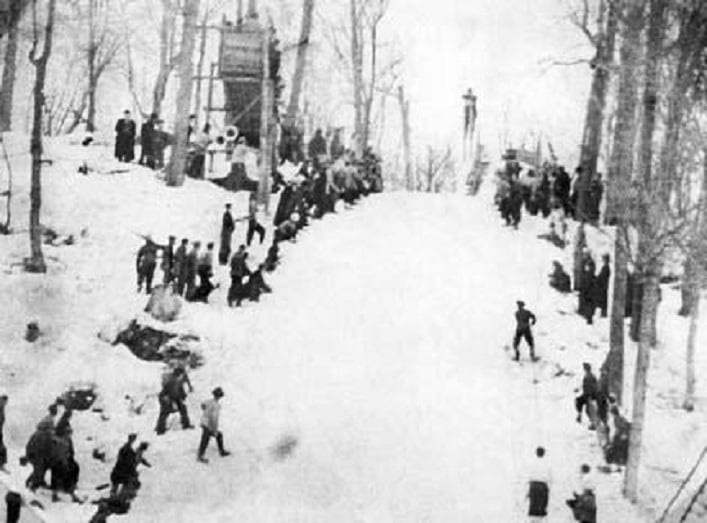 This image elicited many guesses on its location: is it the old Curlew Ski Area on Gryffin Lodge Road? Or Ski Jump Inn / Jorlea Lodge off Highway 11 south of town? Or maybe the ski jump at Memorial Park? Or how about the Mica Mine jump above Fairy Lake?
Those of you who guessed the latter are correct. This 1930s image depicts the Mica Mine Hill ski jump. In Huntsville: With Spirit and Resolve,author Susan Pryke notes that the jump opened on January 13, 1934 during Huntsville's winter carnival. It was billed as the "largest, longest and steepest ski jump in Ontario", and at "170 feet long, the Mica Mine jump offered a possible speed of 70 miles an hour for any jumper who cared (or dared!) to attempt it… The Mica Mine jump dropped off so abruptly that skiers could not see the bottom when poised at the top of its tower," writes Pryke.
According to the Canadian Ski Yearbook, 1938, the record jump to that point was set that year by Celius Skaavas of the Toronto Ski Club who marked 138 feet.
Stephen D (@Twooriver) on Twitter pointed us to this re-printed 1965 article by Harold Briggs, who once owned the property, with comment from his daughter Jane Briggs Van Buskirk: The Mica Mine and Me. It's a good read for anyone interested in learning more. Thanks, Stephen!
And others shared some additional details and Mica Mine memories with us:
Martha Briggs Watson: It is definitely the ski jump on the Mica Mine hill,owned by my dad, Harold Briggs. Look at the ski outfits…this looks like it's back in the 1940s…   It is off South Fairy Lake Road. There once was a mica mine on that hill. My dad owned all that property. He and a crew cut trees to make a ski hill, I believe in the 1930s (Depression time). It was part of the original Huntsville Ski Club. Later they built a ski jump where competitions were held. Jumpers came from far and wide including Norwegians from a camp out the Limberlost Road (now Camp Olympia) for military men came from Norway to recuperate. It was a HUGE event during winters in Hunstville! There is a wonderful history of skiing out there!
Arvina Bennett: Parents took me to watch the Norwegians when I was 7 or 8 at Mica Mine.
Glen Brooks: It sure looks like the mica mine photos that I've seen. I owned the property and built a house just below the landing zone in the mid '80s. The skeleton of the old timber jump (tower) was still there then. The trees were all grown in on the landing slope but were smaller than the others just off to the side.