The 20th annual Kelly Shires Breast Cancer Snow Run brought over 130 women to Hidden Valley Resort last weekend to participate in a memorable event in honour of Kelly Shires. Shires co-founded the snow run but lost her battle to cancer in October 2004. The event raises funds to support women diagnosed with breast cancer.
Suzy Stenoff, co-founder and director, shared that this year's snow run was a great success. "Over $585,000 was raised in pledges and corporate sponsorship, with more expected to come in this week. The team is very proud of the $6.2 million that they have raised over the past 20 years."
This year, the theme for the event was the 'Roaring 20s' with Kelly's Gangsters taking a hit out on cancer!
The spirit was high with some heavy emotion as Kelly Shires' snowmobile was brought to the event for riders to have their pictures taken with it. (See photos of the teams with Kelly's sled at the end of this post.)
In celebration of the 20th anniversary of helping those with cancer, all 130 riders, volunteers, family and friends joined together to make a human '20' that was captured by a drone from above.
The weekend included regular attendees returning to meet their Kelly's family with hugs and support, along with 41 newbies who were welcomed with open arms by all.
The ladies' weekend started off on Friday with a welcome meet and greet with emcee Carey Moran from KICX FM. On Saturday, the ladies made their way down to their sleds all suited up ready to hit the immaculate trails. Team photos were taken with Kelly Shires' sled, a moment of silence was observed in honour of everyone's loved ones who have been affected by cancer, and then the ladies let loose to the event theme song, which was chosen by Kelly Shires, "Man, I Feel Like a Woman" by Shania Twain. This year the ladies got a special surprise: tribute artist Shania Twin made an appearance and kicked off the ride singing the event's anthem.
Once the ladies were warmed up, they started their sleds and waited with their teammates for a thumbs up to head out for day on the trails, meet up for lunch, and then return to Hidden Valley Resort for a hot beverage and to get ready for the closing ceremonies. A gala banquet hosted by breast cancer survivor, Beverly Thomson, included awards presentations and an auction. It was a memorable evening and the team is already discussing plans for the next ride in 2020!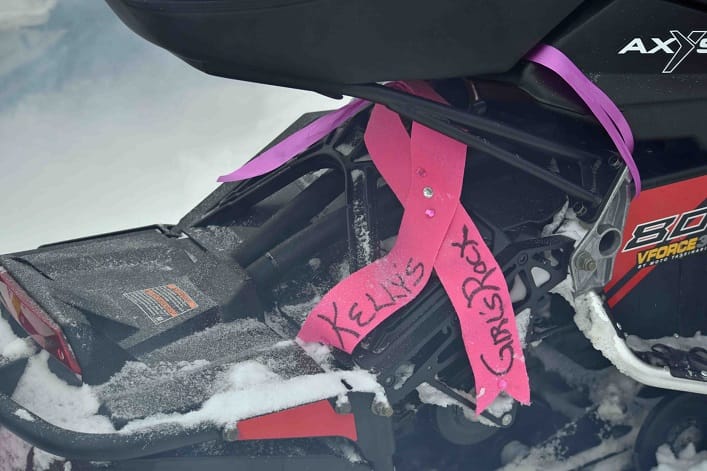 Stenoff sends out special thanks to all of the 2019 participants, volunteers, media partners and sponsors for making this year so successful. "Special thanks to our Platinum level sponsors – BRP/Ski-Doo, Choko Designs, Factory Recreation in Midland, FXR Racing, Maiga Shea Butter, Royal Distributing, Snap-On Tools and the Toronto International Snowmobile ATV & Powersport Show for their continuous support. Thank you to the team at Hidden Valley Resort for all the extra special touches and for making us feel at home once again. Together we ARE making a difference!"
Don't miss out on Doppler! Sign up for our free newsletter here.