Welcome to Wayback Wednesday sponsored by Cavalcade Color Lab!
Every week, we'll be sharing a vintage photo and asking our readers to chime in with anything you can recall about the photo, other related memories, or even a funny caption.
Have some vintage photos of your own? Send them to [email protected] and we may share them with our readers!
Huntsville's Main Street looks a little different today, although some of these buildings are still a recognizable part of the downtown streetscape. What do you notice in this photo? Can you guess what year it was taken? (Photo courtesy of the Muskoka Heritage Place Collection)
Wayback Wednesday is sponsored by Cavalcade Color Lab
Last week we shared this photo with you: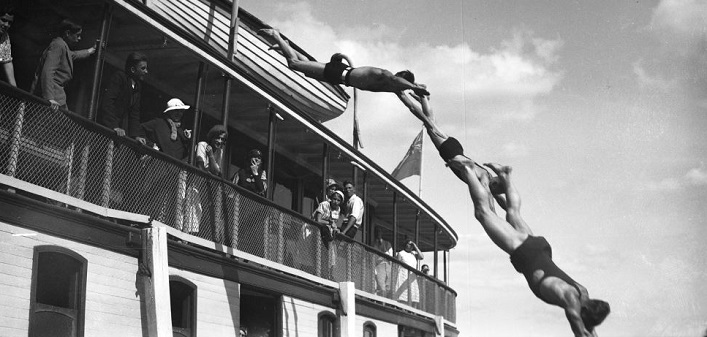 This photo of men diving from the top of the S.S. Iroquois was taken sometime between 1930 and 1948, when the ship was retired. She was moored and neglected at South Portage until she sank in 1949. The present dock is constructed over her hull and if you look closely on a calm-water day, you can see part of her stern beneath the surface.
If you want to see more Wayback Wednesday photos, click here.