It was a great day for some comfort food, and with the most classic of comfort foods—macaroni and cheese—on offer, rainy weather didn't deter hundreds of festival-goers from taking in the second annual Macaroni Festival in downtown Huntsville.
Seven downtown restaurants provided samples of 10 different dishes—some with gluten-free or vegetarian options—for people to try:
Affogato Café – Pulled Pork Mac & Cheese (with gluten-free options), Candied Bacon Mac & Cheese Gelato;
Huntsville Brewhouse – In-house Smoked Bacon Mac & Cheese in Old Cheddar Cream Sauce Topped With Spent Grain Crust;
Main St. Local – New Orleans Andouille Sausage Mac & Cheese (gluten-free option available);
Marigold Indian Cuisine – Fusion Mac & Cheese Pakora, Samosa Mac & Cheese, and Butter Chicken Mac & Cheese (with gluten-free and vegetarian options);
Mottbora – California Roll Topped With Macaroni, Avocado, Tomato, and Crab Meat Tossed in a Ginger Dressing;
That Little Place by the Lights – Creamy Baked Pancetta and Peruvian Pepper Mac & Cheese; and
The Mill on Main – Double Smoked Bacon Mac & Cheese.
Everyone buying the $2 sample tickets (and they bought more than 3,400 of them in total) received a Pasta-Port to vote for their favourite dish for the People's Choice Award, with a panel of judges deciding the dishes with the best flavour, best presentation and most unique ingredients.
While waiting for the winners to be announced later in the afternoon, attendees could take in the inaugural Muskoka Busker Festival with acts up and down Main Street, visit the vendors at the 100k market in a new Main Street location for the day, check out the Huntsville Lake of Bays Fire Department's ladder truck, and watch—or take part in—a pie-eating contest.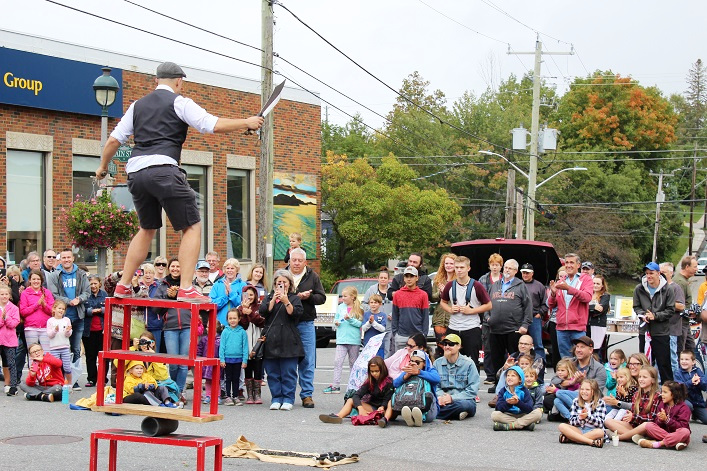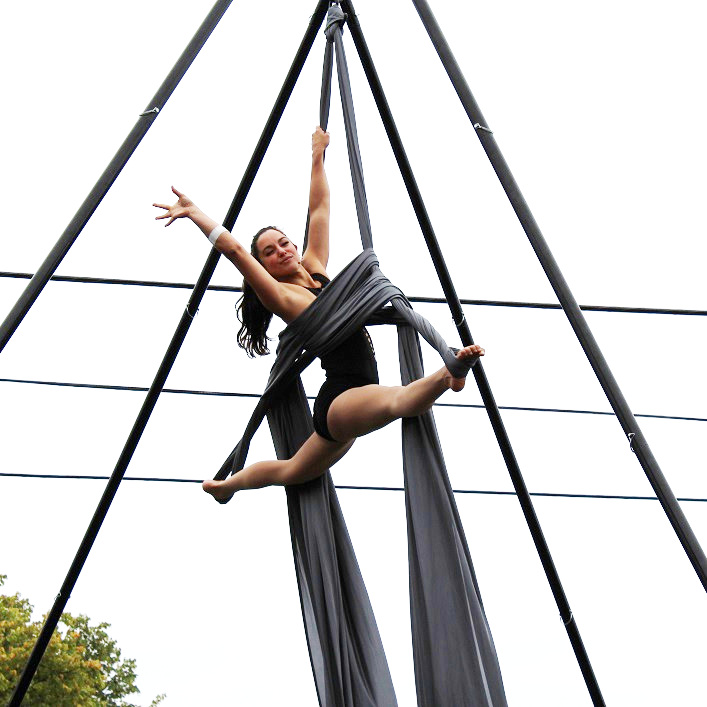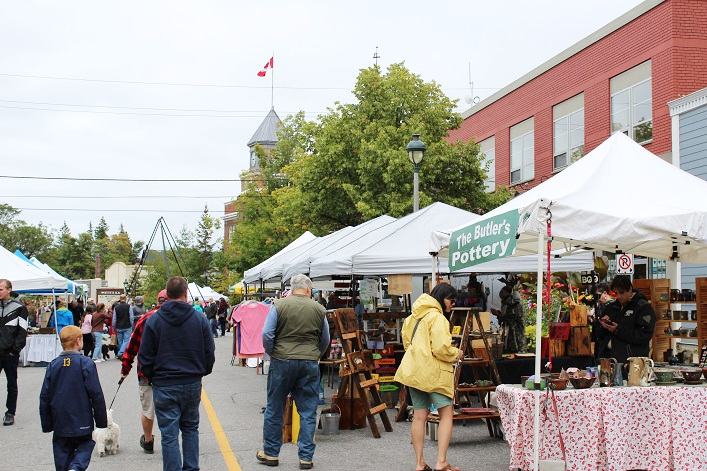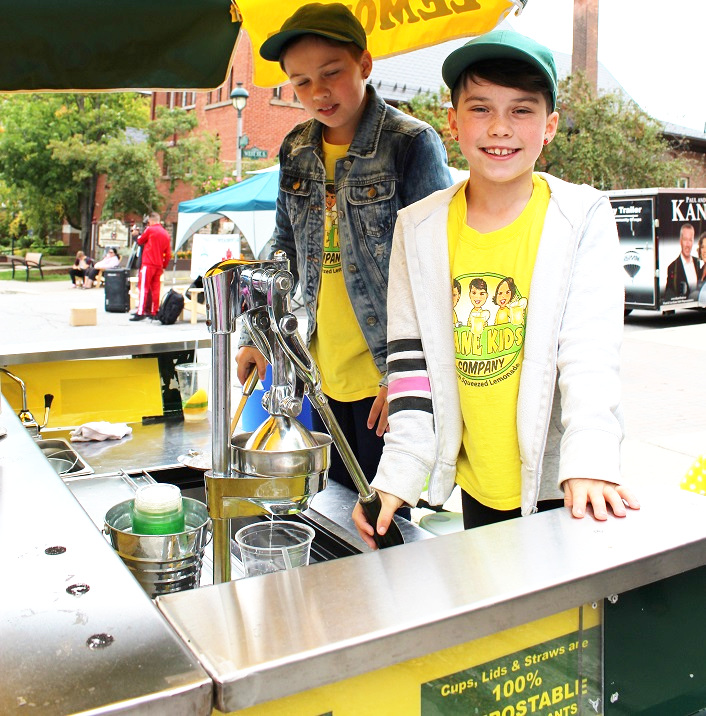 New to the festival this year, the pie-eating contest pitted eight contestants against each other, and the clock, to earn bragging rights as the fastest eater of an entire apple pie. The rules were simple: no hands allowed, and the entire pie had to be consumed for someone to be declared the winner.
The delicious apple pies—not that the contestants had time to savour them—were provided by sponsors Seven Main Cafe and Whimsical Bakery.
Brent Finn, co-owner of local business Wine Excellence, was the first to finish his pie in six minutes and 26 seconds, followed closely by Kyle Carlos from Guelph. Finn received a $50 in Downtown Dollars to spend at a local store.
And then it was time to declare the winners of the macaroni awards.
The festival celebrates the Strano Manufactory of Macaroni, Huntsville's one-time macaroni factory that was established in 1913 where the Algonquin Theatre is today. Then-owner Domenico Strano may have been surprised to see the different ways the humble macaroni could be used.
Judges Jeremy Alldred-Hughes, a local firefighter, Andrew Stillar, bylaw officer, Hunters Bay Radio morning host Grant Nickalls and busker Lukas Stark were given the difficult task of deciding the winners. It was a close race, with these dishes declared tops in each category:
Best flavour: That Little Place By The Lights
Most unique: Mottbora
Best presentation: That Little Place By The Lights
More than 500 votes were cast for the People's Choice Award, with The Mill on Main earning the most votes, followed by That Little Place By The Lights and Marigold.
Attendee Cassie Dietl won the draw for a Muskoka chair.
If you were there, let us know in the comments which mac & cheese dish was your favourite!
Don't miss out on Doppler!
Sign up here to receive our email digest with links to our most recent stories.
Local news in your inbox three times per week!