It keeps getting bigger and better.
And according to Bill Spring, that's the very reason people should check out the Etwell Concert Series.
On Saturday, March 30, the Huntsville Legion will be rocking as the series kicks off its first show of 2019 with Jake and the Fundamentals. The all-star Canadian band is fronted by seasoned blues man Jake Thomas, who is still doing what he loves after more than five decades in the business. The show/dance runs from 8 until 11:30 p.m. and features an opening performance from Spring's own band Concession 8 as the opening act. (Tickets are $20 and are available at Cripple Creek or at the door on the evening of the event.)
"The legion shows are always well attended," says Spring, adding that he does his best to recruit "great dance music" for those indoor shows.
On April 27, the second show of the series featuring musical wonder, James Anthony, will also be held at the legion before the concert's move to the outdoor venue at the Springs' property on Etwell Road.
Spring is no stranger to organizing concerts. Back in the early 1970s when he and his wife Jeanine were just university students in St. Catharines, they ran an unique concert series for two years.
Music has always run deep. I was in bands and really into the music scene up until we moved here in 1979. For the next 20 years I was all consumed in running Cavalcade Colour Lab and helping raise four kids. But once I got that under control I was able to branch out into music again.Bill Spring
The Etwell Concert Series has become a passion for Spring and his wife as well as their son Tobin, who is always a performer in the summer shows at their property. Like his father, music runs deep in Tobin and the talented singer/songwriter has built a name as one of the best guitar teachers in the area. He uses his connections to help recruit some of Canada's finest musicians for the concerts. Those combined with Bill's own connections to the musicians he once played with back in the '70s are what make the Etwell Concert Series a truly authentic musical experience.
"It started slow with three or four shows but the musicians that played were so comfortable and impressed with the venue that word has gradually spread over the last eight years," says Spring. "Now it's common for us to get requests from all over the world… Europe, Australia and the United States but in general most of our acts are from Canada."
Spring says that 30 years ago the main venue for live music was in bars. But that's taken a different turn now. House concerts have become more popular but the Etwell Concert Series takes that whole experience to a new level. With a one-of-a-kind bandshell and stage, those who attend are able to take in the music up close and personal.
I think the reason people keep coming back is a combination of the music and the ambiance of the venue.
There's also an outdoor oven for concert-goers to chow down a delicious snack of wood-fired pizza during intermission. People can even bring their own beverages and food and have "a little picnic" (the concerts are kid-friendly!). The Springs' property is a rare piece of paradise surrounded by flower gardens and towering trees.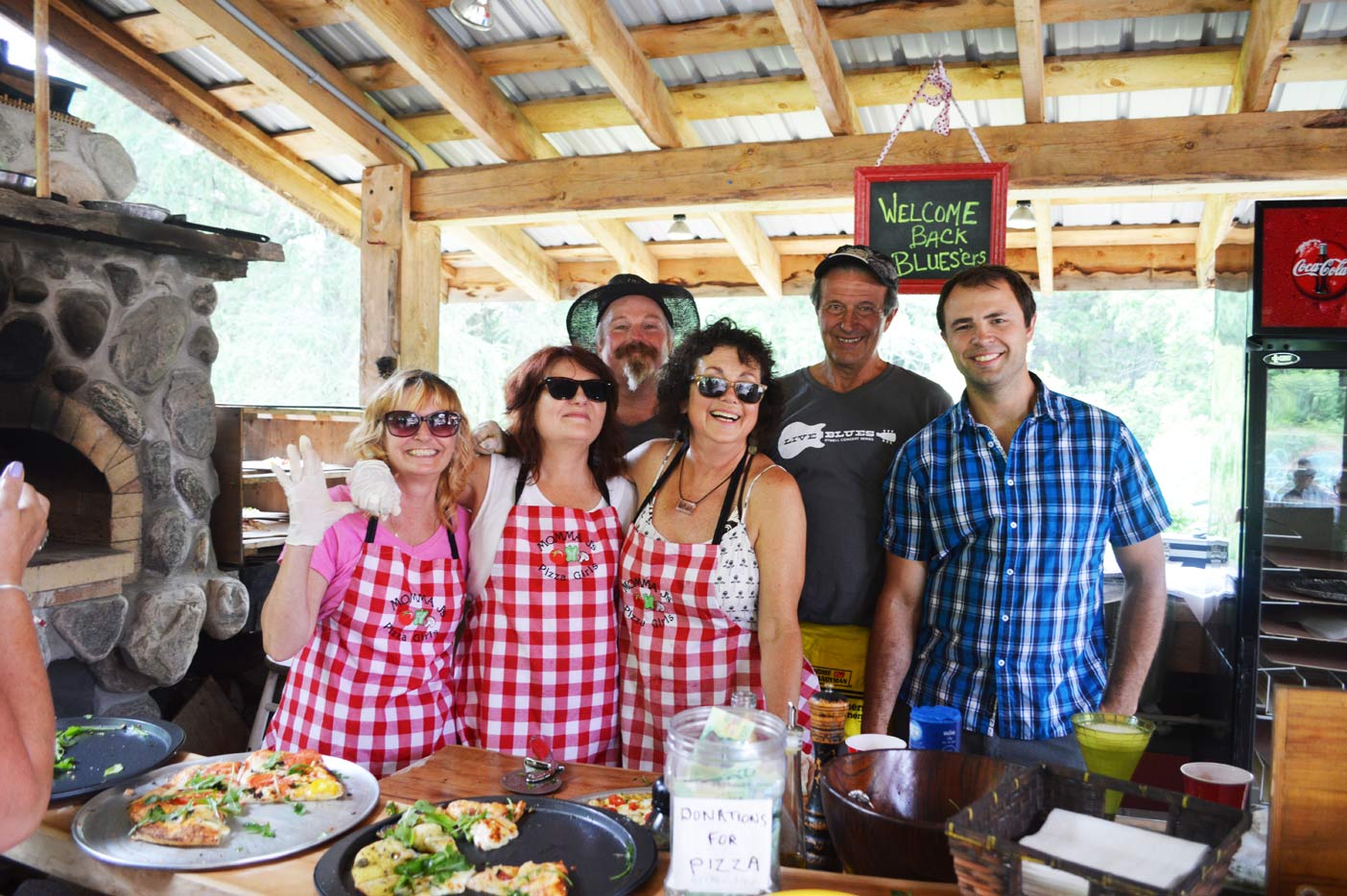 "I had no idea it would grow to be what it is," admits Spring. "We've added improvements over the years and it seems to get better and better all the time."
The outdoor concerts at 2012 Etwell Road begin on Sunday, June 23 from 3 to 6 p.m. and run until October 6 p.m. The cost is $20 per person; kids can attend for free.
Check out the Etwell Concert Series' updated website (www.etwellconcertseries.ca) and Facebook page to keep up on who's playing and when. Some of the musicians slated to perform this year are Steve Strongman, Carlos del Junco, Sue Foley, Jack de Keyzer, the Hogtown Allstars, Tobin Spring, Paul James, Paul Reddick, Angel Forrest, Morgan Davis and more!
Don't miss out on Doppler! Sign up for our free newsletter here.