Text and photos by Don McCormick
The triathlon-racing season in Huntsville starts on March 3, 2019. Yes, it will still be winter, and, yes, there will still be snow on the ground and near-freezing outdoor temperatures, but this event will be held indoors at Huntsville's Canada Summit Centre. It's the third annual TriMuskoka Winter Indoor Triathlon Classic.
"The point of the indoor triathlon," according to Race Director Kaitlyn Habermehl, "is to create a safe place for already-existing triathletes to race, to get involved in something in the off-season, to kind of brush the dust off." And, for those who have never done a triathlon before, "to see what a triathlon is like without being overwhelmed by open water and busy roads—to have a really safe place to come and give it a shot."
Athletes should start arriving at the Canada Summit Centre around 7:30 a.m. for check in. The race starts at 8:00 a.m. The athletes will start to swim in waves of 12 people per wave and try to complete as many lengths of the pool as possible in 15 minutes. They will then have five minutes to change into their cycling clothes and will ride stationary bikes, provided by Fitt Gym, and try to go as far as possible in another 15 minutes. Finally, they will have another five minutes to change into their running gear and will run around the track at the Don Lough Arena, trying to complete as many laps as possible in a third 15 minutes.
To register for the race, one needs to go online to www.trimuskoka.com, click on "Indoor Winter Tri" and scroll down to the bottom of the page and click on "Register". The price is $35 for both TriMuskokaTriathlon Club members and non-members until February 4 after which it will increase to $40 for non-members. Registration closes February 29.
Last year there were just over 90 entrants in the race. "This year, being part of the Triathlon Ontario indoor triathlon series, we hope people from the GTA will come up. We cap out at 120," says Habermehl.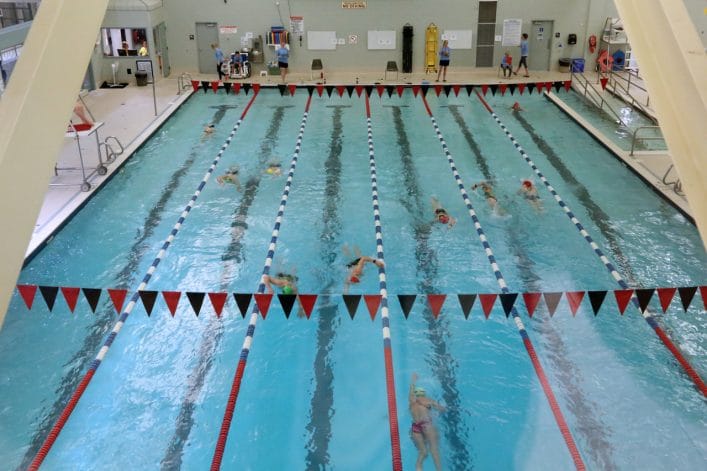 As with any such event, volunteers are needed. People wishing to volunteer can contact any member of TriMuskoka Triathlon Club to make their wishes known. It's a fun event for both participants and volunteers.
The profits from the event will be given to Enliven Muskoka. Enliven is a new not-for-profit organization that was launched on June 23, 2018. It is a centre where people with a cancer diagnosis can learn and practice self-care and how to live well with the diagnosis. For more information and instructions on how to donate to Enliven go to enlivenmuskoka.ca.
Don't miss out on Doppler! Sign up for our free newsletter here.