When you're trying to navigate the world of insurance, who do you call?
You want people who understand both the region you live and work in, and also the unique requirements of your home or business. Who are both knowledgeable about your options and also able to react quickly when something goes awry. You'll find those people at CCV Insurance.
Established in Huntsville in 2007 and backed by more than 50 years of insurance experience, the team at CCV Insurance — Andy Mattice, Deane Belfry, Kimberly Bates, Michele Hitchon and, new to the team this year, Korrie Alexander — know Muskoka and they know insurance.
You may already have commercial or resort insurance with CCV — those are services the Huntsville team is well known for. But did you know that they also have a growing personal insurance focus and now offer a Group Home and Auto discount for Huntsville/Lake of Bays Chamber of Commerce members and their employees?
The same commitment CCV has for their clients also extends into the community they call home. In the past, CCV has supported local events and sports teams, Hospice Huntsville, and the Huntsville Hospital Foundation (HHF). They are in the third year of their Business Cares commitment to HHF, a $25,000 donation over five years. And coming soon they'll also be launching a HHF fundraising campaign, because they believe, as many of their clients do, in the importance of strong healthcare in our community.
Last fall, Andy, Deane, Kimberly and Michele invited the local business community to celebrate the opening of CCV's new office on Main Street West at an open house co-hosted by the Huntsville/Lake of Bays Chamber of Commerce.
It was an opportunity for the team to thank their clients and give them a tour of their new bright, open space in the beautifully restored heritage Paget House, and also share what CCV is all about for those in the community who weren't familiar with the company. CCV Insurance & Financial is one of the largest independently owned insurance brokers in Ontario and has been responding to the unique and constantly changing needs of their clients for more than 40 years.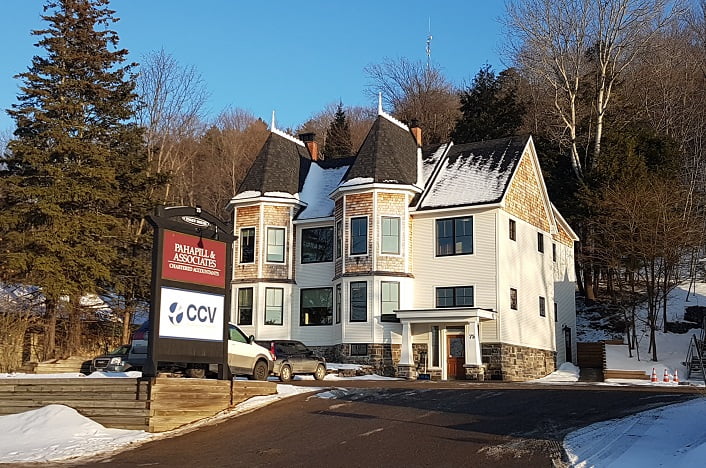 CCV Insurance's new office is at Paget House on Main Street WestThe CCV team has worked hard to earn the trust of local business owners and residents. To learn how they're not your traditional brokers, call 705-789-4165, email [email protected] or visit ccvinsurance.com.
This is a sponsored story paid for by the featured advertiser