Photos courtesy of MUSAC
With two major competitions this weekend, local swimmers from the Muskoka Aquatic Club (MUSAC) are looking to continue their outstanding recent performances with more personal bests and podium finishes.
Eleven athletes have qualified for two competitions: the Ontario Short Course Winter Festivals in Markham from February 20-21 and the Speedo Eastern Canadian Open (also known as the Eastern Nationals) from February 18-21 in Montreal. The Winter Festivals are a provincial competition for swimmers under 13 while the Eastern Canadian Open is a long course competition for senior, youth and junior swimmers. Thirteen-year-old Ally Goldring is the only MUSAC swimmer to have qualified for both events  and has chosen to compete in the Eastern Nationals along with Samantha Goldring, Samuel Kuntz and Nathan Stafford.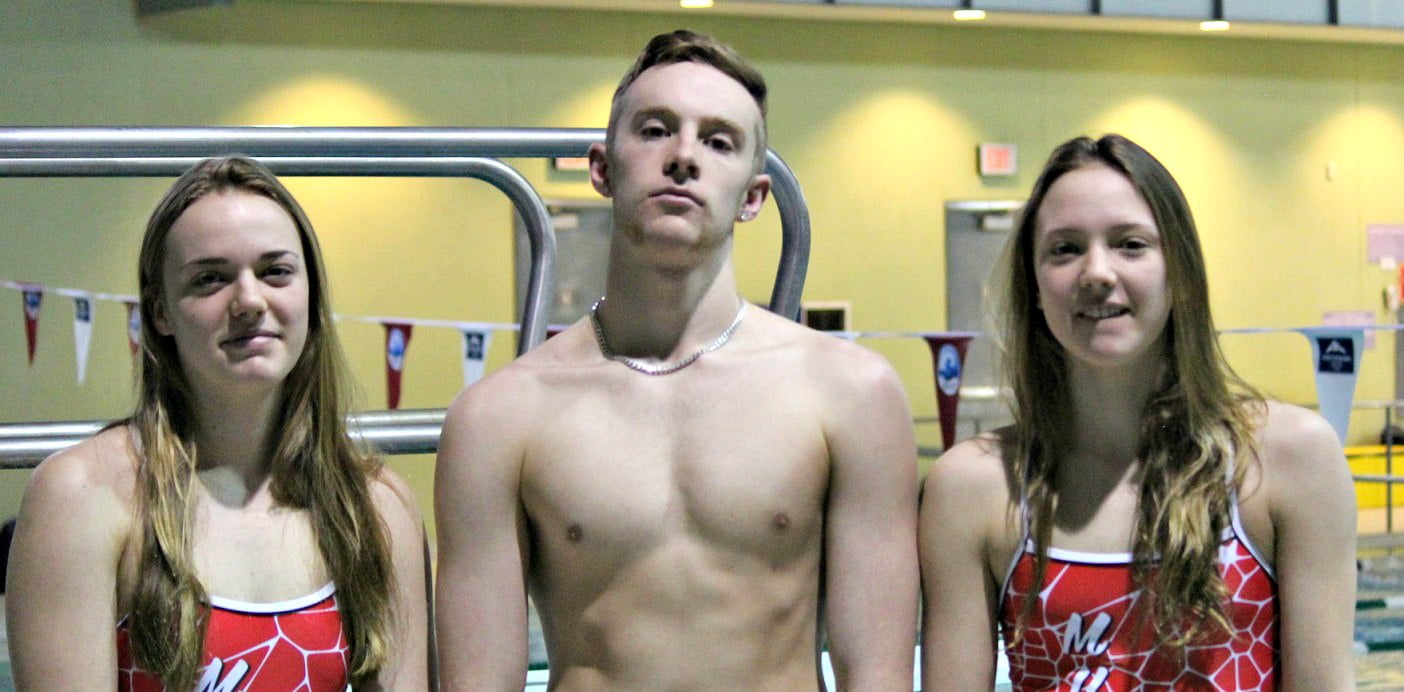 That leaves seven swimmers – Catrice Black, Branwyn Shaw, Emily Boone, Ben Guerriero, Mark Cox, Ian Markham, and Ethan Thomas – headed for the Winter Festivals. Doppler caught up with two of them to see how they've prepared for this competition.
Ian Markham and Mark Cox have been friends since they were three years old. They go to the same school – Muskoka Montessori – and until last year they played hockey together. And they've both been swimming competitively for the past seven years, getting into the sport thanks to older brothers who also swam competitively.
The duo got started at the Rocky Island Swim Club, switching to MUSAC two years ago when Rocky Island shut down. They train for 12 hours per week, primarily in Bracebridge, logging at least 4000m per practice and sometimes as much as 7000m.
This will be Ian's first trip to the Winter Festivals; it's Mark's seventh – he qualified ahead of schedule for the biannual Festivals and competed both winter and summer at age 10, 11, 12, and now 13. Both are aiming for personal bests at the competition, including shaving seconds off Ian's 10:02 in the 800m Free and Mark's 2:18 in the 200m Back. Ian is competing in four events at the Winter Festivals and is looking forward to the experience of competing at a higher level. As the veteran at this competition, Mark is hoping to medal in all six of his events.
Head Coach Morgan Kierstead is in Montreal with the Eastern Nationals team but had this message for the Winter Festivals team:  "I am very excited to see what the results from Festivals will hold. Our swimmers have been training hard since September in preparation for this event and I am sure all of their hard work and dedication will pay off."
Coach Heather Lee will be supporting the younger team members at the Winter Festivals. The rest of the swimmers will be cheering their teammates on from afar. Watch for results on Doppler next week. In the meantime. read about MUSAC's results at the recent Regionals here.