Northern Ontario is pushing for the return of passenger trains and a local group is throwing their support behind those efforts in hope that it will benefit Muskoka as well.
"We started long before the Northlander was cancelled trying to get (Ontario Northland) to recognize they were missing a marketing opportunity in Muskoka," said Lucille Frith from the Committee Promoting Muskoka Rail Travel (CPMRT). "Then we stayed active to deal with the fact that the Northlander wasn't running any more." The Ontario Northland from Toronto to Cochrane was cancelled in 2012.
CPMRT joined with other northern stakeholders in 2013 to form the Northern and Eastern Ontario Rail Network (NEORN), a 'grass roots organization advocating for the retention of existing rail corridors and the reinstatement of passenger train and corresponding shuttle services throughout the Districts of Algoma, Cochrane, Greater Sudbury, Kenora, Manitoulin, Muskoka, Nipissing, Parry Sound, Rainy River, Sudbury, Thunder Bay and Timiskaming.'
And support for the idea is gaining steam, said the group in a release.  "This is not surprising since increasing passenger train travel is one of the fastest ways to reduce carbon emissions and improve economic prospects in Northern Ontario.
"According to Transport Action Ontario (TAO), the Green House Gas (GHG) intensity of passenger rail is three to four times lower than the intensity from single-occupant personal vehicle use. Since transportation is one of the biggest sectors responsible for GHG, providing passenger trains to allow more people to get off roads and highways is imperative for Canada and Ontario to reach their environment targets. Road travel is the worst form of travel for the environment."
The group is encouraging all people in northern Ontario – and Frith counts anyone north of Washago in that category – to comment on the Northern Ontario Multimodal Transportation Study, which will "lay the groundwork for where they are going to put roads and rails for the next 25 years," said Frith. "But the north already has rails. It's a question of retaining them – we need a moratorium on rails being torn up. And we definitely need to relook at moving people off of highways and onto a more reliable, sustainable and environmentally effective rail system."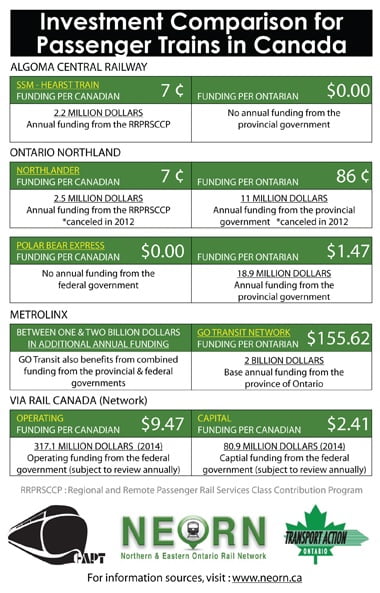 The next step, said Frith, is for NEORN to do an economic impact study from Muskoka right through to Moosonee. "We are just getting ideas of what the cost is and who is going to support it so that there is the ammunition necessary to take to the government levels and say here is the reality of what passenger rail could do for your area. It's just a question of getting the product on the tracks and then we could look at the community economic development as well as the tourism opportunity. Could you imagine having a train like the Rocky Mountaineer going from Toronto to Moose Factory? That is a tourism opportunity that could be sold worldwide."
Frith calls Muskoka a critical link for any northern rail system. "We are one of the most important because they all have to come through Muskoka. So it's a question of what can we do to support the north in their endeavors to ensure that Muskoka is also serviced?"
Learn more about NEORN here.
Don't miss out on Doppler! Sign up for our free, twice-weekly newsletter here.