Main photo: (From left) Firefighter Dan Van Gelder, Lake of Bays District Chief Frank Van Gelder, Angelo Raso, and firefighters Steve Markham and Shane Taylor at Station 30 in Lake of Bays
It's a parent's worst nightmare: finding your child unresponsive, not breathing, no pulse. That was the situation Angelo and Helen Raso found themselves in on August 1, 2018 at their Bella Lake home.
Their son, Johnny, 36, had overdosed on fentanyl, a powerful opioid.
First responders from the Huntsville Lake of Bays Fire Department's Station 30, on Limberlost Road, got the call. VSA—vital signs absent. When they arrived, nothing they could do would revive Johnny. He had died sometime in the night, says Angelo Raso.
"I knew my son had a problem, I didn't know it was that deep, whether it was a mental problem or an addiction. He was a casual user, but fentanyl doesn't discriminate," says Raso. "What I would say to people is keep a close eye on your kids."
He adds that he's grateful that they told Johnny to move in with them a few years ago—not because of an addiction but because he had lost his job in Toronto. "We got to spend some quality time the last few years."
After Johnny died, the Rasos decided they would help others in memory of their son.
The family has had a property on Bella Lake for more than 40 years, first as cottagers until they moved there permanently five years ago. And for more than 40 years they've hosted an annual horseshoe tournament, mostly with neighbours around the lake. This year they asked their guests to make a $10 donation to play and, along with other donations, raised $1,200.
At first they thought they'd donate the funds to Sick Kids Hospital in Toronto, but Helen said she'd rather see it go to the local first responders.
Lake of Bays District Chief Frank Van Gelder says that the funds will be earmarked for something drug-related, "whether it be for education, support within the fire service or even support outside the fire service."
The fire service is very concerned about the effect responding to overdose calls has on its members emotionally, adds Van Gelder. "Sometimes we have to put resources in to support, because it has traumatic effects for anybody."
Steve Markham was part of the team that responded to the Rasos' call for help. It was the first time he'd responded to a drug-related VSA. "It was tough," he said. "When you get the call, you know somewhat what you're walking into. At least when you have that time in the truck to get there, kind of talking through what we might see, what equipment we might need, we might designate someone to assist with the family to make sure that they are taken care of and they are okay as well. It can be overwhelming when you have a bunch of firefighters and paramedics and OPP all coming all at once. You want to make sure everybody is taken care of, not just the patient."
Markham says that he received good support from the fire department after the call. His captain, Shane Taylor, called him immediately afterward and the department's chaplain, Tom Brown, reached out to him as well.
Van Gelder says that the department is as well-equipped as it can be to respond to overdose calls, and with five new recruits joining the stations at Limberlost and Port Cunnington, bringing the total to 20 members between the two stations, they have more manpower to be able to respond. "That's the most recruits we've had in a long time. We've been managing with a low manpower situation and that's challenging. With five new members, it's great."
He adds that anyone who isn't aware that fentanyl and opioids are a problem in this area "should open their eyes".
"In this community, we deal with it a lot. We all know of people that have lost loved ones, have had loved ones hospitalized because of opioids. It's tough, it's sad. And it is an issue, an issue that everyone has to face," he says. "It's a whole education thing. For those that have young children at home, educate them what it's all about. Recognize the problem and the effects of it."
Raso agrees, and encourages everyone to educate themselves about opioids. He'd also like to see stiffer penalties for dealers, especially when someone dies. Specifically: a manslaughter charge. (That charge has been handed to dealers in a handful of cases across the province, but it's not widespread.)
He's been speaking with politicians, hoping to spur some stronger legislative action for drug trafficking, particularly as it relates to fentanyl.
In a letter to Parry Sound-Muskoka MPP Norm Miller, he wrote: "When is the Ontario Government going to introduce legislation to get Tough on Crime with harsher penalties on the trafficking of drugs especially if they [are]laced with fentanyl… Increased funding is required towards law enforcement to ensure we have ample resources available to detect, disrupt, and dismantle criminal networks. We need prosecutors to send a message to convicted traffickers that they will [be]charged with manslaughter if they sell a product which causes death… We want to know our children are going to be OK, they are Not today."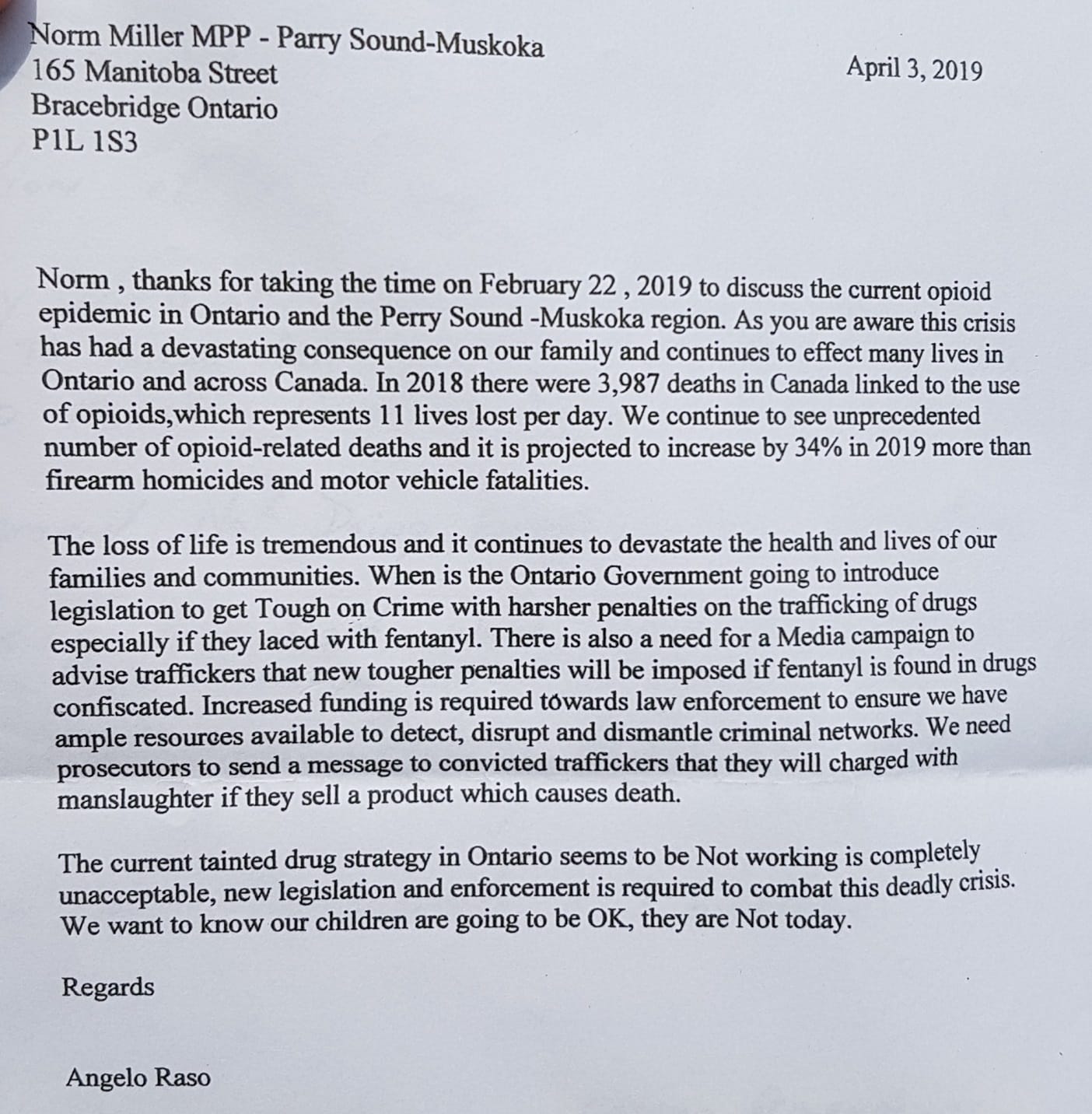 The Rasos intend to continue their annual fundraiser, and hope to make it "bigger and better" to keep raising money for first responders.
Related:
The United Way Simcoe Muskoka is hosting a screening of the documentary Painkiller: Inside the Opioid Crisis on Wednesday, September 25, 2019 at the Grandview Mark O'Meara Golf Club.
Don't miss out on Doppler!
Sign up here to receive our email digest with links to our most recent stories.
Local news in your inbox three times per week!