Main photo: The 2019 Junior C Hawks (from left) Cole Clarke, Mitchell Crosato, Luke Murphy, Morgan Aubin-Vardy, Evan Dickson, Sam Stewart, Josh Jones, Cody Purvis, Colby Reynolds, Colby Thur, Cody Jones, AJ Campbell, Austin Dobie, Tyler Arnott, Kyler Campbell, Mitchell Jones, Ethan St.John, and Cal Lenathen (supplied)
All photos courtesy of the Junior C Hawks
The Junior C Hawks 2019 end-of-season banquet took place at the Bear's Den Restaurant where awards were presented and the Hawks players and team staff joined in sharing a delicious buffet.
The Hawks had a short run for their LAX season as they did not make it into the playoffs, but they played hard as a team like the Hawks do.
"It was a tough overall season," said Coach Caleb Mackay. "Finishing bottom of the league is never easy no matter what you're doing. You learn a lot as a coach about yourself when you have a vision of where the team might/could go but road blocks constantly come up and it feels like you're always going back to the drawing board."
The coaches were excited to see all of the team's talent but they said it was hard to have consistent numbers in players, whether at practices or at games.
"As the season progressed, I felt that the core group of players started to understand and utilize a 'team' game rather than playing as individuals," added Mackay. "It was important all year to remember how young of a team we had and that there would be growing pains along the way."
Mackay said that the biggest surprise of the year was Ethan St. John, who earned the Rookie of the Year award. "As a player from Sault Ste. Marie, he did not miss a single game all year and always showed up to play his heart out. We are very excited about the next four years with him on our team."
"Our MVP goaltender, Cal Lenathen, was outstanding all year," said Mackay, "consistently facing upwards of 45 shots a game in his first year on the bigger-sized nets is a tough task that never seemed to faze him."
The team's most offensive player was an easy pick, said Mackay. "AJ Campbell led our team both in goals and points. He ended up tied for fourth in the league in total goals scored, sixth in total points and first in shorthanded goals. An absolute breakout year from a leader on our team who did not miss a single practice or game all season."
Tyler Arnott earned the most defensive player nod for the second season in a row. "Tyler Arnott was also a first-year captain. He's always setting a tone on the floor that we won't be pushed around as a team and is a model of positivity for all our players in the room," said Mackay.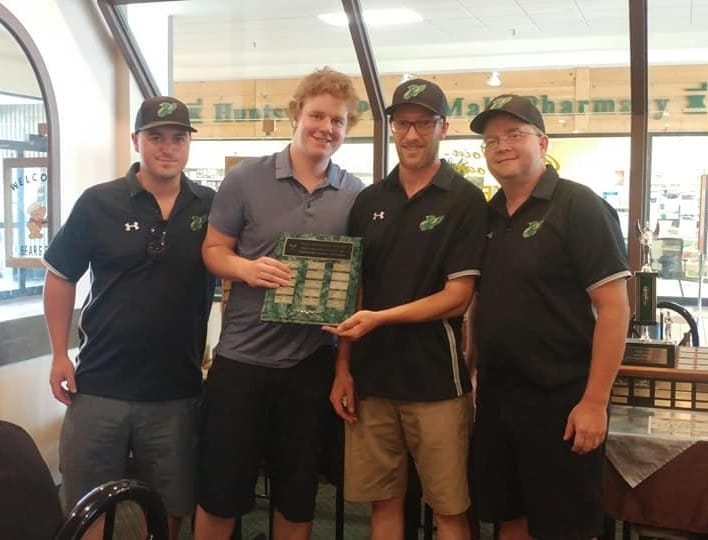 The team's most important award is the Mark Simmons Memorial trophy, said Mackay, "voted by our own players as someone who exemplifies passion, dedication and enjoyment of the game, always playing with heart and determination. This year we had two players, Ethan St. John and Kyler Campbell. I think this vote spoke volumes to what their teammates thought of them and their hard work each time they were on the floor. There was never a shred of energy that these two didn't use up and as first and second-year players respectively, our future is very bright with them in the lineup."
The team said farewell to its overage players at the banquet as well. "You will be missed," Mackay told them. "Senior players in a five-year league are extremely important both on and off the floor. Although they may not realize it at 21, our 16 year-olds constantly look up to them for direction and how to respond to adversity."
The Junior C Hawks coaches congratulate all of this season's award winners and extend thanks to all of the team's sponsors, families and caregivers, and fans. Until next season, Hawks!
Don't miss out on Doppler! Sign up for our free newsletter here.