Every week, I will be profiling an extraordinary human being who lives in our community. If you know someone who is doing something interesting with their life, I want to hear about it. Send me an email at [email protected]
As a young girl, Sandy Inkster always wanted to have a sleepover in a library.
Even when she was in high school she'd marvel at the opportunity to be the only one in the mobile book library. That way, she could have all the books to herself.
Several decades later,  she still gets giddy when she comes across the perfect book, whether it's one for her to cozy up with on the couch by herself or a new one she can share and delight in with children. Yes, Inkster is definitely a bookworm. And that's a wonderful thing. After all, it was  Dr. Seuss, one of Inkster's favourite children's authors of all time, who pointed out so eloquently, "The more that you read, the more things you will know. The more that you learn, the more places you'll go."
I've seen her in action before, but it's been some time since I've been to an Early Years program or to a local storytelling feast. This past Tuesday, I got the chance to watch her at the Montessori School, operated by Muskoka Family Focus, out of the Sabrina Park apartment building. Let me tell you, I was as equally enthralled with her story time as the group of kids were. She is the perfect storyteller and she lights up when she reads. She's engaging and animated and sure to get the group involved. You won't want to take your eyes off of her. She's like a motivational speaker for reading.
While she reads it instantly becomes apparent she truly enjoys what she does. The kids all sit close to her. Most of them are eager to listen. They want to hear what happens next. They can't wait for her to turn the page. I think they feed off her energy. While she read a new children's book to the small wide-eyed group, I started to wonder if she vibrates at a different frequency than most humans. I would really like to harness her energy and have the same pizazz when I read stories to my kids.
For 14 years, Inkster has been an early literacy specialist with Hands (TheFamilyHelpNetwork.ca), a not-for-profit bilingual charitable organization, which is the lead agency for the Parry-Sound/Muskoka Ontario Early Years System. She knows, first-hand, how important it is to read to your child, whether they are still resting in the womb, a bouncing toddler or an inquisitive four-year-old.
A few years ago, a study was done which identified that children need to have a large vocabulary to be successful in life. It noted that a word gap is what limits the potential for children.
Two-thousand words a day is what it has been broken down to what a child needs to hear in order to achieve a vocabulary that will set them on the right trajectory in life. Three books a day will accomplish that. I think that's very manageable for families. It might seem challenging, but even if you read one book three times, and that child is hearing those words, that's a powerful message.
Sandy Inkster
Her job entails "a lot of different things." The focus at the Early Years programs is always parent-child interaction. Perhaps Inkster is visiting a daycare centre to share some poetry or a new book. Maybe she's story-telling, which she will tell you is a lot different than reading. She might be coordinating a DrumFIT experience where the kids are all using drumsticks on fitness balls, or she might be leading an exciting art activity or a baby massage class. She helps organize interactive community events, like the past Family Expo or the always well-attended (sometimes even by random people who don't have kids, and that's okay) Touch-a-Truck, Muskoka! event. She might be working on something interesting for families with the local librarians or the Adult Literacy Society or speech and language therapists for a speech and play day.
"Emergent literacy is the focus while recognizing that those pre-reading and writing skills do not develop in isolation of other domains," says Inkster. "That's why there is such a variety of experiences, all coming back to celebrate and promote reading and writing."
She is well aware that Muskoka is unique in the sense that a lot of parents are seasonal workers. She is mindful of that when planning or coordinating special campaigns or programs where both parents can't make it. In the past, she has helped facilitate events specifically aimed at welcoming only dads and their kids and then turning the table to host an event for the moms.
"Handing out a free book at a free event, now that's a wonderful experience," she says. "We look at ways to get funding so children can receive a book because every child should be able to own their own book. I try to convey different things that are happening in the book, make the experience inviting, and then (the children) are excited about it and they want to open a book. It's an opportune time to go home and want to read."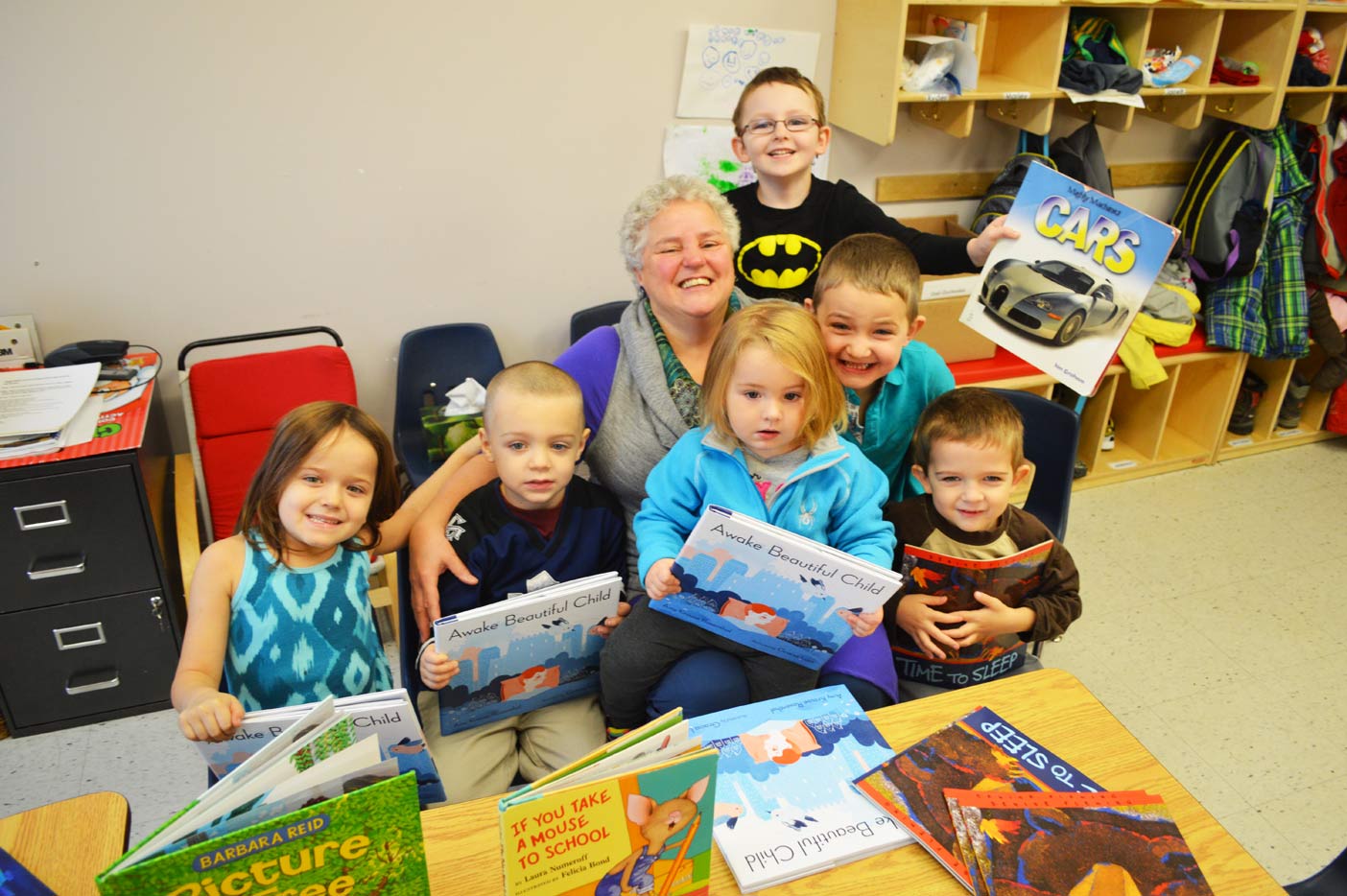 Originally, she studied music but her passion for child development was discovered when she had her own children. She found herself truly enthralled by watching her kids grow, learn and explore, process information, and develop their emotions, whether that was joy or frustration. Being engaged in those experiences with her kids gave Inkster "a newly experienced light with children." She then started taking courses and launched a career working in family resource and parent education.
With so many changes in development as a result of the influence of screen technology, the challenge now, says Inkster, is that using a screen may be more common in day to day living.
Time is precious, so enjoy the early years.
At the past two conferences Inkster has attended, world renowned researchers have discussed the outcomes of too much screen usage and not enough face to face conversation and interactions, outside play time and sleep. She said they discussed the important relationship between emotional regulation and literacy. Children need to run around, explore and problem solve and then come to a calm. It all serves as a life-long tool: being able to deal with changing situations or having the patience to take a turn.
"We need to make sure the excessive stimulus is reduced, and to set limits about screen time and bed time as children don't know what's best for them in that regard," says Inkster. "Just be aware. Technology is a part of a school experience. Your pre-school children learn so fast, there's no need for parents to have that equipment at home. Enough of these experts agree, kids don't need more screen time at home. There are articles about some of the creators of all these technology programs not even having technology in their own homes for their kids."
Inkster is always brain-storming to come up with new and engaging programs that will benefit kids. Currently she is in the stages of planning a local story walk slated for the winter, where families will be invited to take a walk on an area trail beside which a story will be posted on signs throughout the walk.
"Reading while walking, doesn't that sound neat?"
So what keeps Inkster inspired and still excited to get up and go to work after all these years?
"I love being with people. I get to be with babies, toddlers, preschoolers, children in junior or senior kindergarten, parents and caregivers plus so many different professionals like educators, therapists and librarians. My job includes all of them. All the relationships. The range and diversity… the whole spectrum, really."
---
Don't miss out on Doppler! Sign up for our twice-weekly email digest and get some of our top stories delivered right to your inbox.
* indicates required