Main photo: The 2019-2020 Jr. C Otters players and staff (front from left) Steven Wilder (assistant trainer), Tim Horton (equipment manager), Bob Mortimer (trainer), Cole Gilligan (assistant coach), Marc Gagnon (head coach), Tyler Miller, Kain Harrietha, Campbell Coutts, Ty Lindeman 'A', Glen Gagnon 'A', Cody Jones 'C', Cam Walters 'A', Graeme MacDougall, Brock Cooper, Mitchell Jones, Logan Woodrow, Jim Simpson (practice coach), Monty Clouthier (president), Britten Coffin (general manager), Brian Crozier (director of hockey operations), Deb Reynolds (secretary/treasurer), Steve Garner (business manager); (back from left) Draper MacLean, Cole Earl 'A', Nathan Marke (AP), Chris Locke, Nick Coleman, Zac Farnsworth, Adam Dupuis, Brad Wilson, Jake Hildebrandt, Keiryn Morrison (AP), Colin Jones, Parker Simpson (AP), Joseph Stewart (AP), and Chris Brown. Absent from photo: Adam Green (assistant coach), Barry Parish (statistician), Wes Farnsworth (AP), Matthew Joiner (AP), and Ryan Taylor (AP).
The Huntsville Junior C Otters ended their season back in February and in a normal year would prepare for their end-of-season banquet dinner and celebration in late April.
But when COVID-19 restrictions shut down the Summit Centre and Active Living Centre, Otters staff had to put their heads together to find a different way to honour the hard work of the players. The trend has been to use Zoom to connect people, so on May 17 Otters staff, coaches and players met online to watch the year-end video and reminisce about the season.
Otters president, Monty Clouthier, said, "This year we had 16 players from Huntsville on the team which is the highest number we have ever had. We had a few out-of-town players this year that really enjoyed playing here and some have continued to live here and work in the off-season. We are all looking forward to next season and hope we have a big return of players."
During the online celebration, each player was named for their commitments and awards for the 2019-2020 season.
Awards were as follows:
Academics and Athletics for Excellence in Education and Sport – #1 Logan Woodrow
Coaches remarks: "His commitment to work ethic in practice was outstanding. Logan won a national robotics competition in January and moved on to the worlds. He is a great kid and smart. He was my third stringer goaltender and didn't play much but was counted on to come to all practices and was a big part of the club."
Most Sportsmanlike – #28 Brad Wilson
Coaches remarks: "Brad didn't spend much time in the penalty box and is originally a forward but played defense all year. Very lucky to have a player like that and played well."
Dedication to Community Service – #10 Cody Jones
Coaches remarks – "Love this kid! True Otter and isn't shy to let people know it. Big heart and will be missed."
Playoff Leading Scorer – #27 Graeme MacDougall
Coaches remarks: "Graeme has come a long way this season. Very skilled and was finally healthy at the right time."
Manager's Award, Unsung Hero; Playoff MVP (Most Valuable Player); and MVP (Most Valuable Player) 2019-2020 season – #30 Mitchell Jones
Coaches remarks: "Mitchell nor I didn't think he'd be playing hockey at all last summer due to knee injuries but came into camp and took over the number one spot and never looked back. Great guy and great year, Mitchell."
Regular Season Leading Scorer – #17 Cam Walters
Coaches remarks: "Cam is a real gem as he provided offence and leadership throughout the season. Nicely done."
Most Improved Player – # 14 Cole Earl
Coaches remarks: "Cole has come a long way. Very skilled player but this year he was very good at both ends of the ice and we saw leadership out of him. Proud of him."
Best Defensive Forward; Rookie of the Year – #4 Nick Coleman
Coaches remarks: "Coleman came right off the local Midget team, walked right in and was counted on in our D zone especially. He was my faceoff guy. He's a smart player and knows where to be in all zones."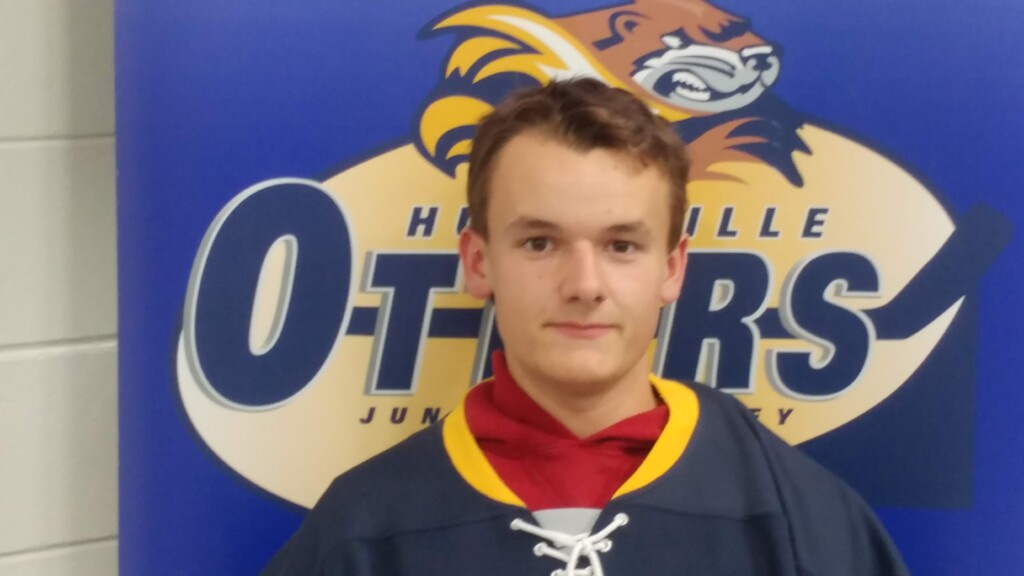 Barkey/MacPherson Award (Over-agers) – Mitchell Jones and Cody Jones
Coach remarks: "The Otters will miss these guys. Local and heart and soul of the team. Cody, a four-year guy was my captain and more likely the most feared player in the league. I predict a future Otter coach.
Mitchell, another local. I was fortunate to have him this season. He saved our bacon numerous times with unbelievable saves."
Defensive Player of the Year – #12 Tye Lindeman
Coach remarks: "This was my fourth season with Lindy. He blocked more biscuits then anyone I know. I think his upper body is permanently bruised. Great leader. Great person. Great job Lindy!"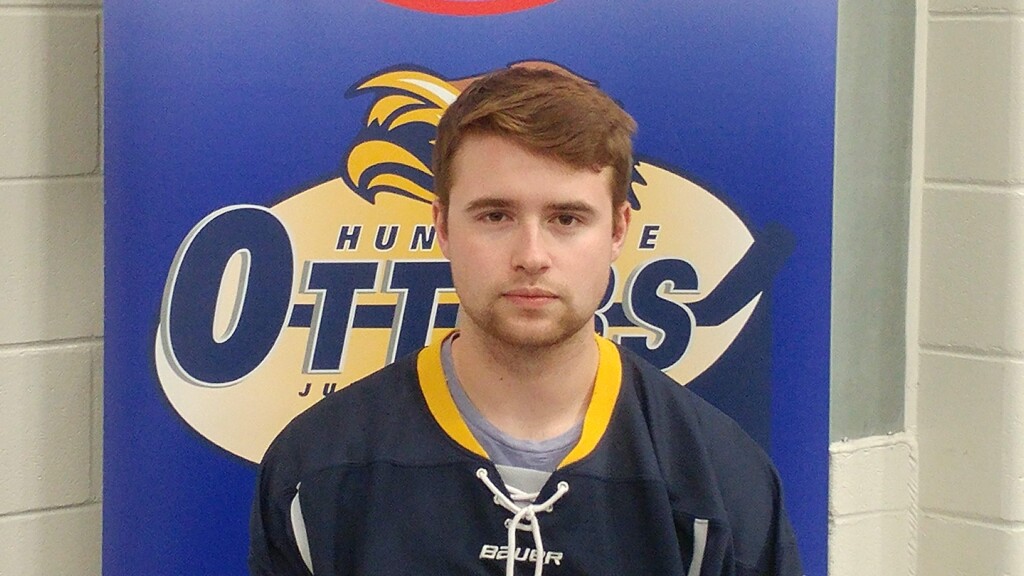 Coach Marc Gagnon thanked his assistants Adam Green and Gilly (Cole Gilligan) and the general manager of the team, Britten Coffin, for all of their hard work this season. Also included in his speech was a large thank you to the sponsors of the team and the executives, Monty Clouthier (president), Brian Crozier (vice president), Debbie Reynolds (secretary), and Steve Garner (business manager). To his bench crew, he thanked Bob Mortimer (trainer), Tim Horton (equipment manager), and Steve Wilder (trainer), as well as his right hand man, Barry Parish as his stats guy.
And, finally, a thank you to all of the Jr C Otters fans for coming out to support the community team and cheering them on throughout the season at their home games.
Clouthier did not get to thank all of the volunteers in person as he usually does at the banquet but he wants all of them to know that he appreciates the tireless hours that were put in to make it possible to have a junior team in Huntsville. He also wants the sponsors to know how thankful he is for their continued support year after year. He sends thanks to the coaches that worked hard this season and to the staff who make things run smoothly all year long.
Don't miss out on Doppler!
Sign up here to receive our email digest with links to our most recent stories.
Local news in your inbox three times per week!
Click here to support local news