This calendar is reserved for non-commercial community events. What does that mean? Your event must be free or of nominal cost, available to anyone (although adult-only events are fine), and not for profit (but we do make an exception for artists showing their work who would profit from any sales made and musicians hosting small-scale concerts). Not sure if your event fits? Drop us a line at [email protected] to check, or go ahead and submit anyhow – submissions are moderated and we'll approve yours if it fits our criteria. Thanks for helping to make Huntsville a vibrant community!

August 2019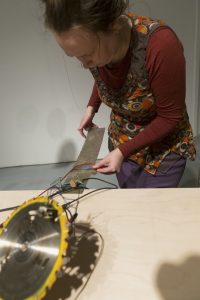 Lames @ NAISA is an interactive installation by Sonia Paço-Rocchia for an ensemble of automated musical saws (FYI Lames means Blades in French). The piece is a sonic story about what it feels not to walk on the beaten track, the anxiety and the liberty it gives. The installation magically brings to life the inherent musicality of saw blades and is composed by the spatial positioning of visitors listening to the installation. Sonia Paço-Rocchia, based in Montréal, has appeared in past NAISA performances as a composer,…
Find out more »
Join us on August 31st at 7pm for the concert Dual Abrasives, a performance by Toronto musician Alan Bloor that captures the very harsh and abrasive sounds of saws combined with a more suspenseful, "ambient" sound using the natural resonances of metal.
Find out more »
September 2019
Join Sonia Paço-Rocchia for her drop in performances called Double-Tranchant @ NAISA during the Culture Days weekend from September 27 to 29. This performance uses musical saws and other instruments inspired by objects that can cut. It is a commentary on the contrast between the brute, the sharp and the flexible, the fascinating.
Find out more »
+ Export Events