In support of Mental Health Awareness Week, Robinson's Your Independent Grocer has launched its annual Painted Pumpkin Project.
Mental Illness Awareness Week kicked off on October 5 and runs until October 10 and is an annual national education project of the Canadian Alliance on Mental Illness and Mental Health. This year's team is ACT!ON MENTAL HEALTH and supporters, advocates and decision makers are encouraged to take part in discussions about improving the mental health system.
The public is invited to come to the community room at the store and paint a pumpkin or take a decorated one home. These are not ordinary pumpkins. Some are adorned with rhinestones and ribbons, and others have polka dots or funky designs. The cost for a pumpkin is $6 and all of the proceeds will be directed to the Canadian Mental Health Association for Muskoka-Parry Sound.
This is the second year Robinson's has done the project for the local branch of the health association. The first year proceeds went to the Table Soup Kitchen.
"This is not something you go home and make a pie with," said store manager Maggie Rittenhouse. "The pumpkins create conversation and I want the conservation to be about mental health."
Rittenhouse said that mental illness is in her family and some of the staff members have experience with it as well.
"Everyone knows somebody… and they might not even know it. I'm trying to help bring it out in the open so people will talk about it. There's a real stigma around having mental illness and I want to get past that."
Not only do the pumpkins support a great cause, but another plus is that they're disposable. People are buying a fresh decoration which means they are a renewable resource, too.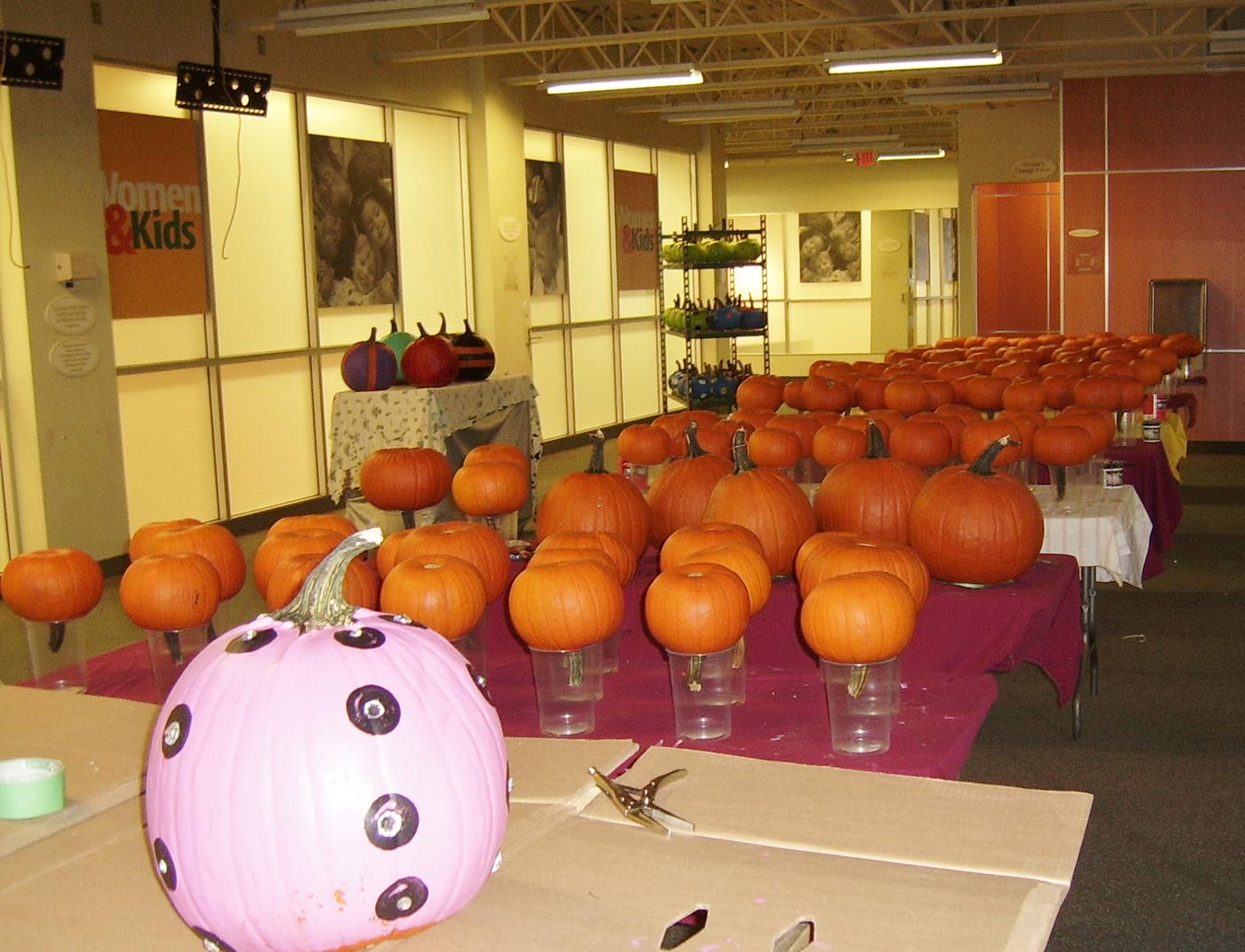 "We're doing something fun and there's an upside to it as well."
Last year, 300 pumpkins were sold through the Painted Pumpkins initiative.
"The pumpkins create conversation and I want the conversation to be about mental health."
Suzanne McEachran, project coordinator for the local branch of the mental health association, indicated that she and Rittenhouse originally connected last year through the Painted Pumpkin Project.
"We were the beneficiaries, which was awesome," she said, adding that due to the fact Rittenhouse as well as staff have been impacted by the organization themselves, the cause is "near and dear to their hearts."
McEachran explained the Canadian Mental Health Association Muskoka-Parry Sound is funded through the Local Health Integration Network and receives funding from the provincial government to cover the cost of addiction and mental health service for clients with OHIP. A few of the local staff have some funding as part of their positions to do some education in schools but the organization doesn't receive ongoing sustainable funding in order to do public education and prevention work in the community.
 "It goes full circle," said McEachran. "In doing the Painted Pumpkin Project it provides a greater opportunity for public education, and raising money allows us to provide more public education."
The Canadian Mental Health Association plays an important role in improving people's understanding of mental health and mental illness. Mental Health Week was introduced in 1951 and is now a popular week for a variety of mental health and addiction awareness and education campaigns, activities and events across the Canada.