After a disappointing opening night loss to the seventh place Erin Shamrocks on Wednesday, February 3, the Huntsville Junior C Otters will look to take back control of their first round playoff series with a pair of games this weekend.
The Otters will head to Erin Saturday night for what is sure to be a thrilling contest in enemy territory, before returning home for a matinee at the Canada Summit Centre on Sunday at 2:30 pm.
Throughout the regular season, home ice advantage has had a major impact on the outcome of Otters-Shamrocks games, with the home team winning four out of five matches.
If those stats hold true, the Otters will have a tough task ahead of them to avoid going down 2-0 before having a chance to bring the series back to Huntsville. The Otters haven't won in Erin since a 4-1 victory on October 25, falling by scores of 7-4 and 7-0 in subsequent games during the regular season, while the Shamrocks had been dominated in both of their regular season trips to Huntsville by scores of 8-1 and 5-0 before coming away with the win on Wednesday.
"I think maybe our boys took Erin too lightly in game one," said Otters General Manager Craig Shaw. "In the third period we finally had some life and made a push to tie it but it was too little too late. This is playoffs, our guys are going to have to work hard and battle for every win."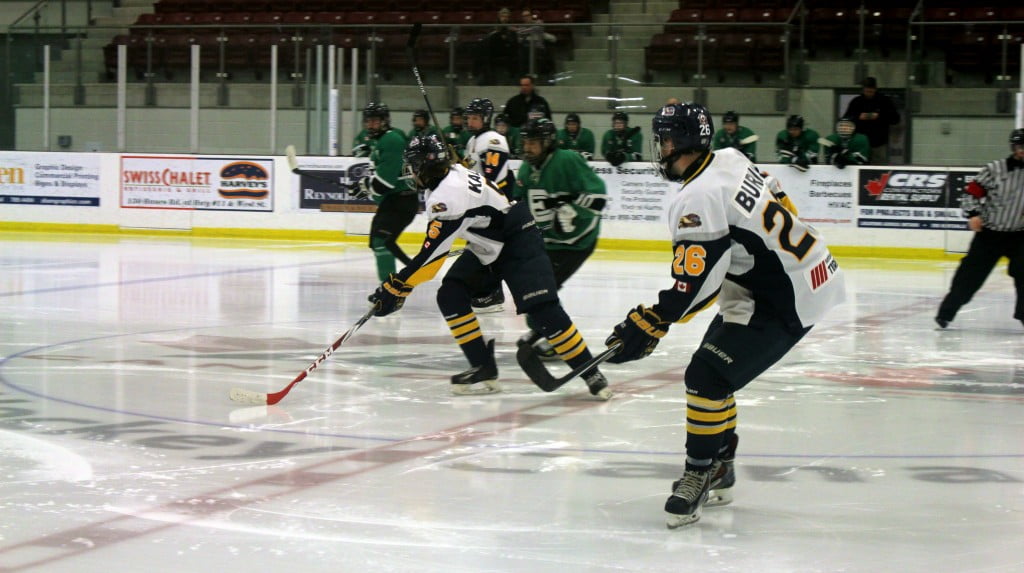 Regardless of the regular season schedule, the Otters remain the favourites in this series, having finished 13 points ahead of the Shamrocks with a +22 goal differential this year. Additionally, the Otters veteran experience throughout their lineup is well adjusted to staying focused in the face of adversity.
"With nine players 20 or older on the team, I think it is those guys who have the experience to help our younger guys battle through," said Shaw.
After the weekend, game four of the series is scheduled to take place in Erin on Tuesday night, with the final three games (if necessary) coming in three days, with two of those dates taking place at the CSC in Huntsville.