THIS BUSINESS SPOTLIGHT SHINES ON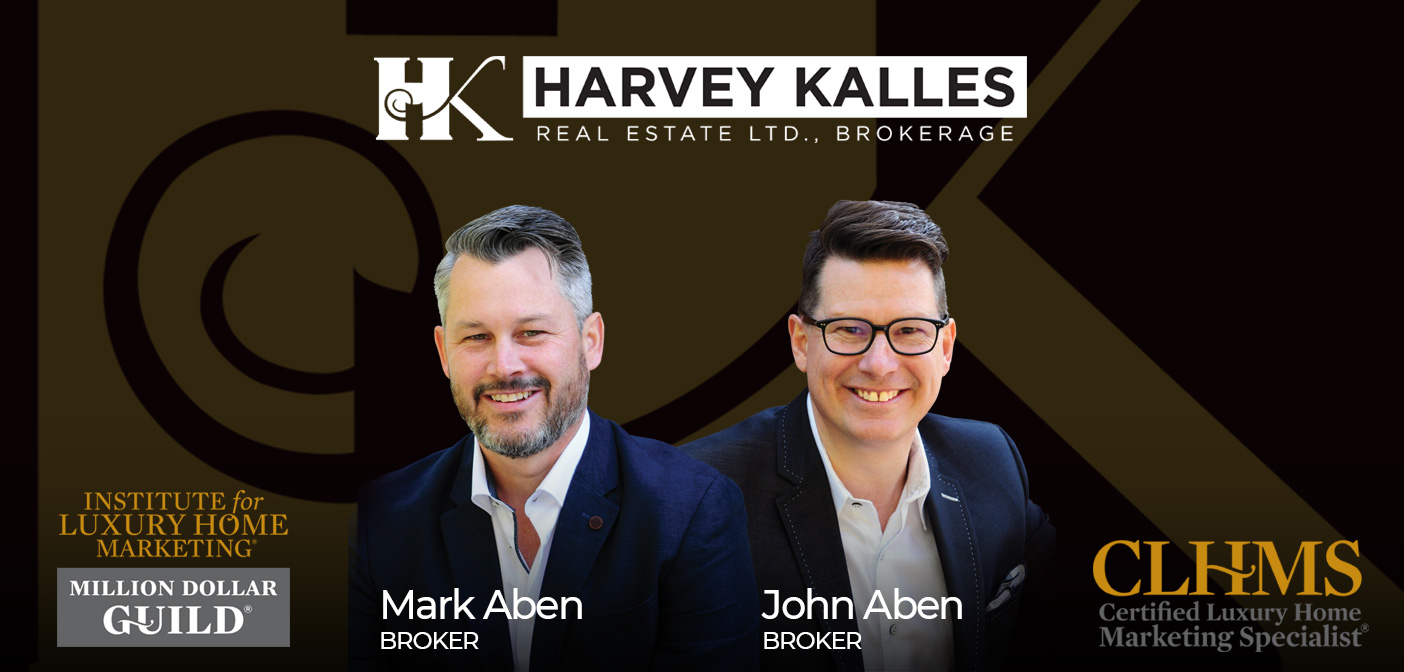 Brought to you by these community-minded organizations because they recognize that
good business is good for everyone:
---
The Aben Team—brokers John and Mark Aben— recently made some big moves. First, they aligned their brokerage with the Harvey Kalles Real Estate banner, a decision that will benefit their Huntsville, Lake of Bays and Muskoka Lakes clients, and then they moved to a beautifully appointed office on Minerva Street with a satellite location in Port Carling.
Harvey Kalles is the largest independently run brokerage in Toronto, and with more than 200 colleagues in that market and international exposure, Aben Team can showcase properties worldwide if appropriate. John and Mark chose to represent their clients at offices in both Huntsville and Port Carling, allowing them to provide full service to their clients across Muskoka.
"Harvey Kalles is a family-run business that's been around for 60 years," says Mark. "The network of agents works really well together—we all help each other as much as possible to get greater exposure for our listings."
Mark's professionalism and expertise were very much appreciated. We were first-time cottage buyers and he was patient, honest and helpful with us. If any of our family and friends ever want to buy a cottage or home in Muskoka, we would be delighted to refer Mark to them.
Dave and Toni H.
It almost goes without saying that an appropriately priced property is just one small part of the real estate puzzle. A property needs to be attractive to buyers, too. That's why John and Mark and the Aben Team treat your property like it's their property. They ensure it looks its best before it lists with staging services by Janice, who has 15 years of experience in the industry, and presents its best through professional photography, videography, and aerial drone footage. They are present for every showing to answer buyers' questions, and to be sure your property is properly locked up and lights are off until the next showing or until you arrive home. You'll get constant communication including weekly seller reports so you know exactly what's happening with your property.
"On a weekly basis we provide the seller with a detailed report that includes how many people have viewed their property on realtor.ca, on our website and on our social media channels, as well as the active, sold and expired listings in the same range," says John. "It's tells them what's going on so that they don't feel out of touch. Having that connection with our sellers is important."
And when your property sells, or you've bought a new one, take advantage of the Aben Team VIP service—one location to switch or set up your utilities, hire a mover, change the address on your driver's license, forward your mail, and more.
Selling a home can be a stressful experience. John Aben and his team however made the process as easy as possible. From the initial valuation, thru to the final negotiations and closing, their approach was very professional and we could always count on the team for support. Their knowledge of the market together with the manner in which they treat clients makes their contribution invaluable. We would highly recommend them for any real estate transaction.
Peter & Linda V.
Stop by the Aben Team's new location at 13 Minerva Street East or in Port Carling at 1A Lee Valley Drive for a coffee and details on how they can help you find the right buyers for your cottage or home, or the perfect cottage or home for your needs.
You can also follow them on Facebook and Twitter, or view properties for sale at muskoka-realestate.ca. They share Muskoka real estate market statistics here. And watch for featured listings from the Aben Team on Huntsville Doppler's Real Estate page.
"Integrity is what you do when no one is watching." That is what you will get with every member of the Aben Team. I have bought and sold several properties in Muskoka and rest assured you will get the best representation and hard working real estate professionals in the district. Satisfied customer.
Mary B.
This is a sponsored story paid for by the featured advertisers