According to Natural Resources Canada, emissions from industry, agriculture, construction and waste comprise roughly one quarter of Canada's emissions. These sectors are accustomed to practicing energy conservation because energy costs have a direct impact on their bottom line.  However, a 10 per cent reduction in emissions should be achievable by 2030 through conversion to different types of energy, equipment, and processes.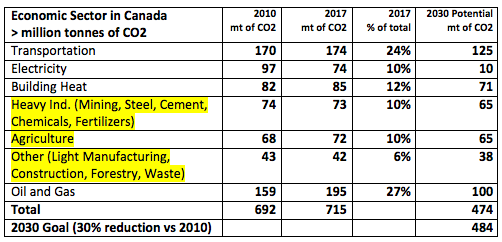 In Heavy Industry, the emergence of Small Modular Nuclear Reactors (SMRs) offers opportunities to generate and even sell electricity while creating low-cost and zero-emission heat for industrial processes such as cement manufacturing; one of the bigger CO2 sources. Creation of Light Manufacturing zones with their own SMR can provide both electricity and emission-free district heating for their buildings.
Electric-powered construction equipment is being developed for sites where electricity is available. Caterpillar is building a fleet of 26-ton excavators for Norway that can run seven hours on a charge.
John Deere recently unveiled a 400-horsepower electric tractor for zero-emission agriculture.  However, due to constraints on materials and manufacturing capacity for batteries, and availability of clean electricity at remote locations, most construction, agricultural and forestry equipment will likely remain on diesel fuels for the foreseeable future.
Waste to Energy
Landfill emissions are 50 per cent methane which remains in the atmosphere 20 times longer than CO2. As new landfill sites become impossible to find, today's Waste-to Energy (WTE) technology offers opportunities to eliminate landfill emissions, and to co-generate electricity and heat with 1/3rd less energy than producing them separately. WTE facilities reduce waste volume by 90 per cent and the resulting inert ash can be used as fill for road construction.
CBC News recently reported that the Ontario Waste Management Association forecasts a need for 10 new landfill sites by 2030 and 16 by 2050. Where will new landfill sites be located? A 2003 proposal  would have sent Toronto's waste 600 kilometers north by energy-consuming trains through dozens of communities (including Gravenhurst, Bracebridge, and Huntsville) to a quarry at Kirkland Lake. Garbage trains would return smelly but empty. That proposal was defeated, and Toronto's garbage went to Michigan for a few years. Toronto now sends over 500,000 tonnes of waste per year to a landfill near London, Ontario. The CBC report outlined a new proposal to convert a large quarry at Ingersoll, Ontario which of course was vehemently opposed by Town and area citizens.
Does the Ontario government want to spend the next 30 years and millions of dollars being referee between municipalities trying to foist their waste on other municipalities that oppose it? Or is it time for legislation requiring each Municipal or District government (whichever has the bigger area) to take responsibility for its own waste? Their options are landfill (that maximizes emissions, transportation and economic concerns), or Waste-to-Energy facilities (that minimizes those concerns).
There are 100 Waste to Energy facilities in the US, and 400 in Europe. China plans to handle 30 per cent of their waste in WTE facilities by 2030. There are a few WTE facilities in Canada. Metro Vancouver diverts 260,000 tonnes of waste per year from landfill to a WTE facility that saves 260,000 tonnes of landfill gases and earns $8 million in electricity sales per year. Charlottetown PEI heats their hospital with a WTE facility. After 15 years of failed attempts to locate a new landfill site, Durham Region built this WTE plant that processes 140,000 tonnes of waste per year and makes 17.5 megawatts of electricity to power 10,000 homes.
At a time when climate-changing emissions are a top priority, we should be adopting Sweden's world-leading model for waste management. Environmentally conscious Sweden uses 34 logically distributed Waste-to-Energy plants to recycle 99 per cent of their waste into recyclable materials, clean electricity and heat. The heat is used for hot-water district heating of industrial, commercial and residential buildings; eliminating the cost and emissions related to heating with natural gas or oil. It's time for Ontario to send an expert task force to Sweden to get up to date.
---
This is the third of a four-part series focusing on SOLUTIONS that Canada could adopt to reduce emissions that contribute to climate change.
You can read Part 1, Addressing climate change: Emissions from transportation, here,
and Part 2, Addressing climate change: Emissions from electricity and buildings .
Hugh Holland is a retired engineering and manufacturing executive now living in Huntsville, Ontario.
Don't miss out on Doppler! Sign up for our free newsletter here.