Three things happened this month that took me back about four decades and not in a good way. One was a 'National Breastfeeding Month' banner hanging from our own swing bridge another was a photo of Sophie Gregoire Trudeau breastfeeding her son and the third was a tweet from Jamie Oliver praising his wife – and by extension himself – for the "composed, natural birth of their fifth child."
In and of themselves all of these things are good and beautiful. Except that somehow, over time, privileged couples – some of them rich and famous – have established that birthing a child and feeding it should only be done naturally. Natural is the new/old mantra of this set: it makes anything other than a vaginal birth sans medication, followed by having the baby latch on to mom's breast without fanfare, the only way to go. The problem is in doing so it subtly suggests that C-sections, pain medication and bottle feeding are unnatural and just not quite up to snuff. (Google "celebrities using natural childbirth" and I swear that you'll throw up in your mouth a little while rolling your eyes a lot!)
There was a time when I thought this was about shaming women or trying to control them but now I am not so sure. I've really come to distrust the word natural. In my humble opinion it is merely code for "this crap costs buckets of money and mostly doesn't work." The natural myth has become entrenched in modern issues from the anti-GMO movement to the anti-vaccination kerfuffle. Mostly affluent westerners are embracing a romanticized idea of the natural. It's a kind of quasi-cult-like rejection of modernity. Perhaps it's not about control and although it mainly affects women it's not about them.
One hundred years ago every birth was natural and 500 women of every 10,000 died in childbirth and infant mortality was above 10 per cent. Today maternal mortality is 1 in 10,000 and infant mortality is around five babies per 10,000. Those awful numbers did not come down naturally. They came down thanks to science and education.
In places like Angola where women give birth naturally with other women assisting, infant mortality is an astounding 180 per 1,000 births. In other words, it is double that of Canada 100 years ago. Closer to home, my own maternal grandmother died in her early 40s during childbirth. Our massive reduction in mom and baby deaths was achieved through ultrasounds, gestational screening and by physician-assisted delivery with emergent access to surgery and neonatal support.
It's been a long time since I was pregnant – my 'baby' will be 40 soon – and I confess that I drank the kool-aid too. I was lucky that I had a relatively easy labour and delivery so nobody had to pay a price for my embracing of a somewhat kooky birthing trend. Later an enthusiastic, slightly manic La Leche League advocate visited me and sold me on breastfeeding as the only option and I bought that too. Selling natural is not new. Oh, and natural does not come cheaply.
Of course, there is also nothing wrong with an non-medicated birth either. Women should be able to choose to pop junior out whilst singing Kumbaya under a waterfall surrounded by fields of daisies but it's wrong to feel like you've failed if a C-section needs to be performed. A healthy baby is the goal and as long as you keep your eye on that prize whatever you choose is equally valid. No one should feel one iota intimidated by the celebrity that chooses no meds, no doctor and no formula. Remember, these are the same people who go back to being a size zero  four weeks following the stork's arrival.
In poor countries the breast likely is best due to a lack of safe drinking water and the perfidy of companies that have pushed third-world moms to use pricey formula, which mothers then had to adulterate to stretch them further.
It is a handy and mostly beneficial thing that women are equipped with breasts that often provide nourishment for their children. But I've seen too many women stress and weep with the pain of cracked nipples and a lack of milk production but who grit their teeth because they think formula is 'bad'.
Researchers at Ohio State University compared 1,773 sibling pairs, one of whom had been breast-fed and one bottle-fed, on 11 measures of health and intellectual competency. The children ranged in age from four to 14 years. The researchers recorded various health and behavioral outcomes in the sibling pairs, including body mass index, obesity, asthma, hyperactivity, reading comprehension, math ability and memory-based intelligence. The study found no statistically significant differences between the breast-fed and bottle-fed siblings on any of these measures. Many of the long-term benefits attributed to breastfeeding may be an effect not of breastfeeding or breast milk itself but of the general good health and prosperity of women who choose to breastfeed.
Like other movements, the push for natural birthing began with a real need for change. But like everything we do, we seem unable to maintain balance and instead swing wildly to extremes. On a somewhat separate note, while I adore modern dads increased involvement in all things baby, I beg you to stop using the royal 'we' to describe your child's birth. Until you squeeze an eight pound anything through your penis, your supportive "atta girl" back rubs and ice chips are appreciated, but please give credit where credit is solely due, okay?
As one writer/doctor/mother said recently, "By the 1980s the original natural birth movement had accomplished all it set out to do. They should have packed up the placards and congratulated themselves in a job well done." Instead they kept going into an area not supported by science. She adds, "They went from 'Women should have a choice in how they give birth', to 'anything other than natural childbirth is wrong and dangerous'." And that simply isn't true.
Giving birth is not usually a lovely, romantic experience. It can be but it can turn into a medical event pretty quickly. As for natural….well, you are still going to squeeze a wriggling eight-pounder out of a space that seems less than ideally designed for the job in an experience both joyous and agonizing. Whatever else you do, that should be plenty of natural for most of us to handle in one lifetime.
Photo credit – thesun.co.uk
Don't miss out on Doppler! Sign up for our free, twice-weekly newsletter here.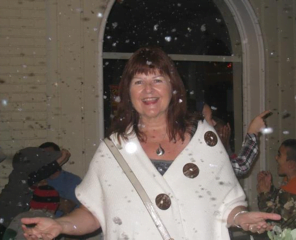 Following a career in the hospitality sector and the acquisition of a law and justice degree in her 50s, Dale embarked on a writing career armed with the fanciful idea that a living could be made as a freelancer.  To her own great surprise she was right.  The proof lies in hundreds of published works on almost any topic but favourites include travel, humour & satire, feature writing, environment, politics and entrepreneurship. Having re-invented herself half a dozen times, Dale doesn't rule anything out.  Her time is divided equally between Muskoka and Tampa Bay with Jim, her husband of 7 years and partner of 32 years.  Two grown 'kids' and their spouses receive double doses of love and attention when she's at home.