Find Serenity at Mummers Lane Cottage on Dickie Lake
Muskoka is lake country, and for many, the chance to enjoy a cottage in the woods is the perfect way to spend holidays, or live year-round. Anyone who remembers the iconic movie On Golden Pond, and longs for the serenity of their own lakefront cottage, can find such a place in Muskoka. The Rick Wearing & Sandra Parrott Team are excited to share with you just such a cottage which is now on the market. Affectionately known as "Mummer's Lane", this listing has everything you could want in a secluded, retreat home/cottage … comfort, privacy, peace & quiet, stunning views and lakefront access.
The sellers of 1355 Dickie Lake Rd, in Baysville, fell in love with their lakefront cottage immediately. The goal was to find a quiet retreat to easily escape the noisy and fast paced life of Toronto, especially on long weekends, and it was found in what became known as Mummer's Lane Cottage. The property sits at the end of a long private drive, offering genuine peace and quiet, surrounded by wooded forest, and yet it is near enough to neighbours, that it was easy to make community connections.
As a head lake, Dickie Lake feeds other bodies of water in the area, and is currently a key focal point of ongoing habitat research, including a bird sanctuary on one of the lake's islands. You can learn more about the unique wildlife and habitat of Dickie Lake via the Muskoka Water Web. The community is also supportive of protecting the wildlife of the area, and everyone helps to take care of the lake. Tuning in with nature is a way of life here.
A favourite aspect of life on Dickie Lake for the sellers is the abundance of wildlife, including loons, whose hauntingly beautiful calls are often accompanied by stunning sunsets. It is said loons on a lake reflect the health and vitality of the habitat, if this is true, Dickie Lake is a pristine ecosystem where the residents clearly care for the water as much as the animals do. According to the sellers, there is nothing like a relaxing dinner on the private dock, or a canoe ride on the water, surrounded by peaceful nature.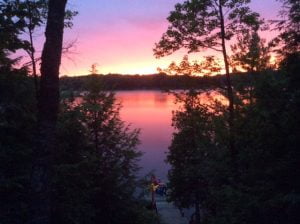 Mummer's Lane Cottage itself offers incredible views of those stunning sunsets, which was important to the current owners. The cottage is situated atop a huge granite outcropping, and raised above the ground, facing northwest, to take full advantage of the gorgeous evenings. The sellers' favourite room is the main living and kitchen area, which leads right onto a large L-shaped deck, overlooking the lake to the west. The cottage itself was built to take advantage of the stability provided by the stone outcrop, you can even see some of it in the basement. This cottage is truly built to be a part of the landscape and has weathered many a storm without issue.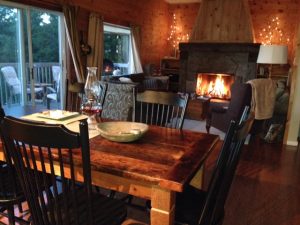 The cottage is accented with wood paneling, beams and floors, as well as a recently added Muskoka Stone fireplace, which is now the central focal point of the cottage. The gourmet kitchen includes a large island with additional storage, and is open to the family room, creating one large area, ideal for entertaining or simply enjoying the beauty of the surrounding woods.
This 1,150 square foot cottage includes three bedrooms, one bath, a basement and plenty of storage space. There are also other features to the property which the sellers have enjoyed immensely, such as a picnic gazebo, fire pit and private dock for personal water craft. The property is rustic, kept primarily in its natural wooded state, which provides even more privacy, and helps to conserve the fragile habitat of this ecosystem. Other recent additions and improvements to the cottage include new shingles, installed last summer (July 2016), a shed, a high end water filtration system providing pure water and an addition to the tower for better wi-fi service.
The Dickie Lake community is truly a special one, with an active community association which puts on an annual BBQ every summer, a perfect opportunity to meet your neighbours. There is a mix of permanent residents and vacationers, such as the current sellers of Mummer's Lane. If you are looking for year-round serene living, Mummer's Lane Cottage is move-in ready, though the basement will need to be fully insulated for winter use. Dickie Lake and Baysville are also ideally situated as a central location to enjoy other areas such as Huntsville, Dorset and Bracebridge with ease. Even though many of the cottages along Dickie Lake are vacation homes, the road to the cottage is maintained throughout the year, and is in good condition, so living there permanently is not an issue.
You may be wondering why the cottage was named Mummer's Lane. According to the sellers, it was a perfect fit for the cottage, where an eclectic mix of family, friends and cultures have frequently gathered to relax and enjoy each other's company. Mummers are traditional costumed dancers which are found in a variety of cultures around the globe, whose key role is to bring merriment to the community. This is just what the sellers have enjoyed when staying at the cottage.
The sellers have recently retired, and bought another secluded retreat on Lake Ontario. It is no longer practical to keep two properties, so now they hope a new family will enjoy Mummer's Lane Cottage as much as they have for many years to come. This is a special cottage on a special lake, ready for anyone looking to live surrounded by the serene beauty of the Muskoka woods.
If you are in the market for a cottage or home with lakefront views and the tranquility of the Muskoka region like this listing on Dickie Lake, listed at $549,900.00 please contact us directly to receive complete listing information. Please call us at 705-788-3535 or email at [email protected] today!
This information is taken from sources deemed to be reliable. The Wearing Parrott Team does not guarantee accuracy; we recommend information be validated independently
When you are ready to buy or sell your home, cottage or condo, you want a team whose expert advice you can trust and count on. Achieving your real estate dreams begins with an in-depth conversation about your wants and needs. The Wearing-Parrott team not only provides over 55 years of combined experience helping their clients, they believe in the power of listening too. You will be center stage through the entire process. Contact us to set up an obligation-free appointment, and find out how you can put our real estate team and experience to work for you.
Please call 705-788-3535 or email us at:  [email protected]  today!