$679,000
Nestled among the trees, there's a wonderful year round home/cottage on the shores of  Rebecca Lake ready and waiting for a new owner. If you've been interested in lakeside living Muskoka style, this is a property not to be missed. With its own private boat launch and surrounded by the natural forested landscape,  1005 Fieldale Lane is an ideal place to set down roots and experience the best of waterfront  life.
This 1,120 square foot home/cottage with three bedrooms and two full baths provides comfort and convenience alongside the spectacular views of Rebecca Lake. The house itself sits at an elevated level slightly away from the shore, with an ideally situated deck for watching life along the water and enjoying the seasonal changes year-round. Whether you're looking for a family home or a place to retire, this home/ cottage is fully finished on both levels and ready to move in.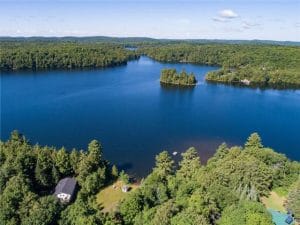 There's a feeling of warmth and welcome extended throughout the dwelling with the light-coloured wood paneling and stone accents in the interior. Each level has a woodstove, perfect for keeping the cold of winter at bay while you enjoy the comforts of home.
The upper level has an open floor plan connecting the main living room, dining room and kitchen in one area with large windows looking out toward the lake. From this part of the house there's access to a roomy deck with built-in bench seating, perfect for entertaining with an incredible view of Rebecca Lake as a backdrop. Two of the three bedrooms are also located on this main floor along with a 4-piece bath.
The lower level includes a large family room, third bedroom and 3-piece bath, just right for guests, extended family or kids.
There's a detached, two-car garage next to the cottage with a workshop/hobby room attached; this property is roomy enough to provide each family member their own space to get creative and enjoy the Muskoka lifestyle.
This property is an ideal one for anyone who loves to get out on the water for some fishing. With direct access to a private dock and a dry boathouse/garage, there's plenty of room for storage; when you want to drop a line on the lake, you'll be able to with ease. Rebecca Lake itself is one of the best lakes in the Muskoka region for catching fish such as brook and lake trout and smallmouth bass.
To access the lake from the cottage you need just take the stairs down to the dock a short distance away. There's also a shared lane which takes you from the main road down to the water's edge, so inviting friends over with their own boats isn't an issue. The level, grassy area along the waterfront is ideal for family meals lakeside or to provide a large play area for kids.
Rebecca Lake itself is an incredible part of the Muskoka region with homes & cottages along the shores throughout, yet plenty of peace and quiet remains with beautiful views of the lake. Many of the dwellings are situated similarly to the one at 1005 Fieldale Lane, set back a bit from the shore's edge and incorporated amongst the trees. Being close to both Limberlost Nature Reserve and Algonquin Provincial Park, homes & cottages on Rebecca Lake are an excellent choice for anyone who loves to explore the natural side of Muskoka.
If you want a lakefront home/cottage this is one property worth checking out. The Rick Wearing & Sandra Parrott Team can show you this listing directly. Whether you're buying or selling, we're here to work for you and give you the best experience when it comes to fulfilling your home dreams. Please call us at 705-788-3535 or email at [email protected] today!
This information is taken from sources deemed to be reliable. The Wearing Parrott Team does not guarantee accuracy; we recommend information be validated independently.
---
Read more articles by the Wearing-Parrott team –
The Rick Wearing & Sandra Parrott Team are now offering immoviewer Virtual Tours
The Rick Wearing & Sandra Parrott Team: The view is grand at Grandview!
The Rick Wearing & Sandra Parrott Team: Multiple offers a reality as local real estate market heats up
The Rick Wearing & Sandra Parrott Team: Spotlight on Hidden Valley
The Rick Wearing & Sandra Parrott team shines a spotlight on Lakewood Park
The Rick Wearing & Sandra Parrott team shine a spotlight on Meadow Park
The Rick Wearing  Sandra Parrott team: The importance of pricing your property properly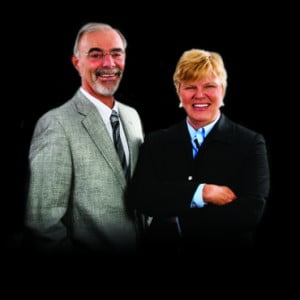 When you are ready to buy or sell your home, cottage or condo, you want a team whose expert advice you can trust and count on. Achieving your real estate dreams begins with an in-depth conversation about your wants and needs. The Wearing-Parrott team not only provides over 55 years of combined experience helping their clients, they believe in the power of listening too. You will be center stage through the entire process. Contact us to set up an obligation-free appointment, and find out how you can put our real estate team and experience to work for you.
Please call 705-788-3535 or email us at:  [email protected]  today!