Langmaid's Island on Lake of Bays: a once-in-a-lifetime opportunity
Langmaid's Island is a 140 acre property of distinction located near the south end of Lake of Bays in Muskoka, just a two hour drive north of Toronto. The property has never before been offered for sale in the open market and the package includes smaller Pancake Island and a mainland property for access. This once-in-a-lifetime opportunity is now being offered for sale exclusively through Chestnut Park Real Estate Limited for $14,950,000 CDN.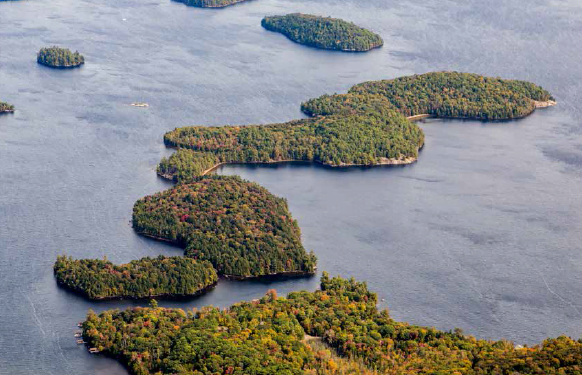 Property and Unique features of Langmaid's Island
Langmaid's Island is the largest remaining privately owned undeveloped island in Muskoka
* 140 acres
* 2 natural sandy beaches with southern exposure
* 5 kilometers of shoreline
* granite jumping rocks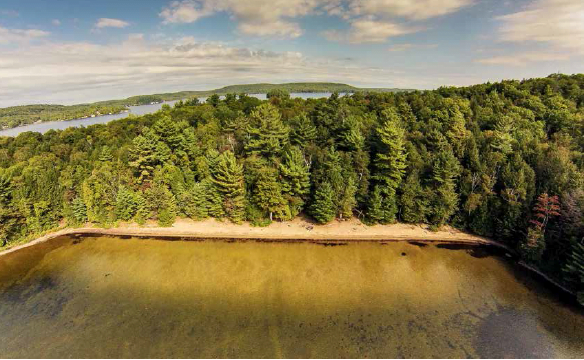 The sheer size, beauty and privacy offered by Langmaid's Island is breathtaking. Langmaid's is an island property on Lake of Bays in the District of Muskoka, Ontario that has been owned by the same family since the late 1800's. This island has been cared for and preserved in its natural state with honour and respect for the stewardship of the land. With 140 acres and almost 5 kilometres of shoreline this property is unlike any other that has recently been offered for sale and will surely be
the last of its kind.
Langmaid's Island is located off the mainland just north of the town of Baysville on Lake of Bays. Three large hills reach to an elevation of 50 metre above the water and give an unparalleled opportunity for 360 degree views around the lake. A forest of hemlock, white pine and cedar trees populate the undeveloped rocky shoreline and a small marshland occupies a small protected bay along the northern shore at the narrowest point of the island. But perhaps the most spectacular features of Langmaid's Island are the two natural sandy beaches that stretch along the southern shoreline. These beaches are a rare feature in a cottage country property in Muskoka. A smooth shelving of pink granite rock highlights the southern edge with large jumping rocks adding to the mix. A small, rocky, picturesque island called Pancake or Seagull island is offered as well as part of the package being offered for sale. Pancake Island gives the owners of Langmaid's an opportunity to enjoy private picnics and have a charming destination for afternoon paddles.
Getting to Langmaid's Island from the mainland will be easy because of the land available at 3933 South Portage Road. This vacant .54 acre plot of land has 200 feet of lake frontage and will be the perfect spot for a private access point to the island. The entire package offered for sale consists of Langmaid's Island, Pancake Island and the mainland lot.
Lake of Bays: A land of beauty
Located in the northeast corner of Muskoka just 2 hours north of Toronto, lies the Township of Lake of Bays. Comprising 66,000 acres of spectacular natural beauty, including wetlands, old-growth forests, sandy beaches, and granite rock outcroppings from the two billion year old Canadian Shield, this majestic area surrounds the sparkling waters of Lake of Bays, the second largest lake in Muskoka. Dorset, Baysville and Dwight are the three charming towns that make up the larger community of the township. These friendly and vibrant towns offer just enough restaurants, shops and amenities to make living in this peaceful township convenient and pleasurable. Recreational activities abound in the Lake of Bays area with world-renowned golf at Bigwin Island, the close proximity to world famous Algonquin Park, and the network of trails and paths to explore in all four
seasons. Lake of Bays is the perfect place to enjoy the many wonders of Canada's cottage country.
To own a private island such as Langmaid's is a once-in-a-lifetime opportunity.

Contact me to find out more about this and other perfect properties!
Susan has been a full time REALTOR® and real estate broker in Huntsville, Ontario and Lake of Bays area since 1990. Her experience and knowledge have proven invaluable to her clients. To see how other Buyers and Sellers have found working with Susan as their REALTOR® view her testimonials.
Susan brings a high degree of integrity and professionalism to her career in Real Estate. She has pride in her reputation and is dedicated to hard work, honesty and providing quality service and total client satisfaction. Susan has been a consistent award winner for high volume sales in her profession.
As an experienced REALTOR® , Susan has been interviewed by Global TV, The National Post, The Globe & Mail and CTV News regarding real estate trends in the Muskoka area. Recently she was interviewed by CBC News and  appeared on national television as CBC celebrated their 75th anniversary. Watch Susan's bio video here.
Susan has also earned the professional designation of SRES® (Senior's Real Estate Specialist) and enjoys working with seniors in all price brackets for all types of property. Although Chestnut Park and Susan Brown are probably  best known for selling luxury waterfront properties in the Huntsville/Lake of Bays area, Susan likes working with Buyers & Sellers in all price ranges  and with all types of real estate: condos, residential homes not on water,  and rustic cottages,  as well as high-end luxury waterfront properties in the Huntsville/Lake of Bays area.
[email protected]   705-788-4176  www.lakeofbayscottages.com
[