The Invisible Injury: Part One – Acute Concussions
Dark rooms, little social interactions, boredom, stigma, depression. These are just a few of the "side-effects" of having a concussion; a highly recognized phenomenon in both the sport community and general population. It's great that the topic of concussion has gained so much popularity over the years, but now the problem is that there is so much conflicting advice available to patients. The brain is such a unique organ with so much that remains unknown, but let's talk about what we do know.
What is a concussion?
A concussion is defined as a traumatic brain injury induced by biomechanical forces (McCrory P, et al., 2017). These biomechanical forces can be induced in the form of linear (think being rear-ended, the brain hits the front and then back of the skull) or rotational acceleration (think being T-boned or sideswiped, where the brain gets swished around), with the latter (rotational acceleration) being the more dangerous.
You have a suspected concussion, now what?
Let's say you and some friends were playing a friendly game of soccer yesterday, and you and a player from the opposing team butt heads while trying to head the soccer ball. The first and most important course of action would be to rule out any spinal or life threatening injuries. Then it is
crucial to have a diagnostic assessment performed by your MD or NP as soon as possible. The SCAT5, a highly used diagnostic tool in differentiating concussions, is most useful when used within the first 24-72 hours post injury. It is also important to keep in mind that there is no definitively accurate screening test for concussion nor are there any biomarkers (for example an MRI or urine test is useless in the diagnosis of concussions), so it is important to take a multi-modal approach to diagnosis. Your MD or NP will provide you with a Medical Assessment Letter stating if a concussion was diagnosed or not. If a concussion was not diagnosed, you are free to go back to school, work, and sports. If a concussion was sustained, your medical assessment letter will be required to take time from school, work, and/or sport. Avoid taking over-the-counter medications that thin the blood (i.e. aspirin or ibuprofen) within the first little while after a suspected concussion as they may increase the risk of bleeding. Follow ups with your health care provider should be performed at 1-2 weeks post, 3-4 weeks post. Health care practitioners, including physiotherapists, can provide education, reassurance, and create a concussion-care plan for return to play. Once you have gone through the appropriate return to sport protocol, you will need a standardized Medical Clearance Letter from your family MD or NP to be able return to full contact practice and game play.
Prognosis: Concussion Recovery Pattern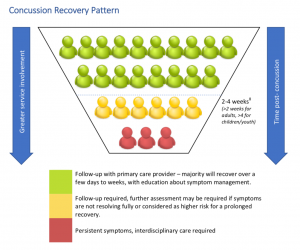 Prognosis is a difficult subject when it comes to recovery from concussion because clinical recovery may happen prior to physiologic recovery; meaning that you may be symptom free from your concussion, but your brain hasn't fully healed. Predicting recovery is also difficult because of individuality; poor prognosis can be related to a subset of risk factors such as previous concussion history, depression/anxiety, etc. Nonetheless, research demonstrates that the majority of concussions (85 per cent of adult patients) resolve in 10-14days, and up to a month in children and adolescents. This means that in the perfect scenario it is considered "normal" to recover within one month of onset.
MythBusters:
Baseline testing is not required for post injury care. In Canada, computerized neurocognitive testing (e.g. ImPACT) is not required nor recommended in youth athletes. However, there may be unique athlete populations and sport environments where baseline testing may be considered; in youth and adults with previous concussions and ADHD/learning disorders. These should be exceptions and not the rule. It really comes down to a judgement call. Only a select few of tools that aid in the diagnosis of concussions require baseline scores, such as the King Devick.
Concussions cannot be easily prevented. Helmets do not prevent concussions but are important for preventing skull fractures, inter-cranial bleeds, and other abrasions. Other equipment such as mouth-guards most likely do not decrease the risk for sustaining a concussion. There is one retrospective study that has deemed that mouth-guards may reduce concussion risk, but the study is of lower quality and had no statistical significance. There is currently no evidence that indicates neck strengthening as a preventative measure for concussion.
Prolonged Rest (no activity, dark room for days-weeks) is not required for recovery. Best evidence does not support prescribing complete rest for more than a few days post-concussion. Use a brief period of complete rest (24-48hrs) then encourage gradual and progressive activity while staying below cognitive and physical symptoms. For example, after a few days start low impact exercise, such as walking, as tolerated (70 per cent max heart rate) and screen time as tolerated.
Summary:
Concussions are difficult to diagnose, difficult to treat and provide prognosis, and hard to prevent. We can help aid your recovery process. Have questions? Check out: parachute.org, send us an email or give us a call, and we'd be happy to chat.
For more information or to book an appointment call 705-380-3312 or visit the website . Surge Physiotherapy is located at 33 King William Street, Suite 204, in Huntsville. Office hours are flexible with evening appointments available (3x/week). Email – [email protected]
Stephanie is a bilingual, Registered Physiotherapist with the College of Physiotherapist of Ontario and the Canadian Physiotherapy Association who is committed to providing a hands on, personalized approach to physiotherapy.  
Stephanie, a native to the Huntsville community, developed a passion for health and wellness during her youth while competing in cross-country running, nordic skiing, and track and field. Stephanie has always had a strong caring nature and fell in love with the physiotherapy profession while volunteering at a physiotherapy clinic during high school and university. 
Stephanie continued to build on her passion for health care by attending McGill University and completing her Bachelors of Science in Kinesiology. During her Masters in Health Science of Physiotherapy, completed at the University of Ottawa, she completed internships in orthopaedic clinics, hospitals, home care, and neurology centres.