This calendar is reserved for non-commercial community events. What does that mean? Your event must be free or of nominal cost, available to anyone (although adult-only events are fine), and not for profit (but we do make an exception for artists showing their work who would profit from any sales made and musicians hosting small-scale concerts). Not sure if your event fits? Drop us a line at [email protected] to check, or go ahead and submit anyhow – submissions are moderated and we'll approve yours if it fits our criteria. Thanks for helping to make Huntsville a vibrant community!

Past Events
Events Search and Views Navigation
April 2019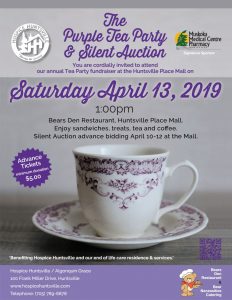 Join Hospice Huntsville for our Annual Purple Tea Party & Silent Auction We will be serving mini sandwiches, delectable pastries and tea/coffee. There will be a fabulous silent auction for all the guests to place a bid. All funds raised will go directly to the Hike for Hospice Huntsville fundraising goal of $50,000. Advance tickets minimum donation $5.00 starting March 25 at Hospice Huntsville.  Available April 10-12 at the storefront next to Winners at Huntsville Place Mall.
Find out more »
+ Export Events