Scroll down to see the most recent obituaries or view the archives at the links below.
If you would like to submit an obituary or death notice, please email huntsville@doppleronline.ca.
HUGHES, Leslie Merrit "Les"
At the age of 88, Les Hughes passed away peacefully in Huntsville, on August 5, 2020. He worked for over 40 years with CP Express Transport Ltd as a long haul trucker with over 30 years of safe driving. Les was a very loving, supporting and caring husband to his wife Ruth for over 64 years. He loved his family very much and enjoyed spending time together with them. He was always there as the strength and the rock of the family; to listen and help in whatever way was needed, without judgement or criticism. He offered invaluable advice and guidance to all.
He had a strong passion for fishing, hunting, family and great knowledge for being a handy man with mechanics and home repairs. All traits and passions he has been able to pass along to his children and grandchildren. He had a very personal and special relationship with each individual member of the family. He was very much loved and will be missed by his wife Ruth Hughes (Roberts). His children Richard, Nancy (Rodger Wilson), Randy, Harvey (Hellen Chaka). Grandchildren Jeffery, Bradley, Amanda (Adrien Gendreau), Michelle (Joe Nicholls), Scott (Lorain De Koning), Brittany, Thomas and Keegan.  Great grandfather to Lucas, Peyton, Stella and Elena.
Cremation has taken place and in keeping with Les' wishes a family Gathering and celebration of life will take place at Billingsley Funeral home August 15, 2020 from 12:30 p.m – 2:30 p.m.  As an expression of sympathy and in lieu of flowers, memorial donations may be made to the Huntsville Hospital Foundation, Parkinson's Foundation or charity of your choice.  Messages of condolence can be left at www.billingsleyfuneralhome.com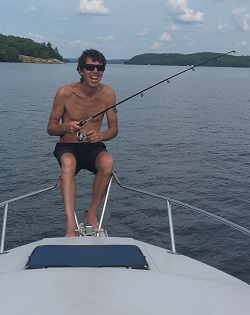 Brent Morris
May 19, 1976 to July 22, 2020
Brent passed away peacefully with his wife Becky by his side on July 22, 2020.
He was a true friend and devoted husband, son, brother and uncle.
Brent leaves behind his wife Becky (Stead) Morris, along with his parents Gary and Sharon Morris and sister Carolyn Morris. Also left to mourn are his in-laws Tom and Carolyn Stead, brother in-law Tom and Dawn Stead, sister in-law Margy and Jeremiah Tilstra. He will be greatly missed by his caring uncles, aunts, cousins, nieces, nephews and many great friends.
Brent lived life to the fullest – working hard and playing harder. Brent worked as a marine mechanic, diligently solving problems through his honest work ethic. He loved adventures, whether on snowmobiles, dirt bikes or boats. Brent found the greatest peace while out on the water enjoying the quiet on his boat "Beastie Bouys".
Brent was a kind and generous friend with a smile bigger than life. His awesome group of friends would drop everything to help each other out or to engage in some shenanigans. Brent's wife, Becky, has been his anchor throughout. Their love is unbreakable.
We would like to thank Dr. Harrold, the nurses of the palliative care team for all their help and support, and Dr. Emmenegger from Sunnybrook Odette Cancer Center.
May we celebrate the many smiles and wish Brent "cheers" on his next adventure.
In memory of Brent Morris, donations can be made to Hospice Huntsville.
Celebration of life will take place in the near future.
Cope, William Henry
At 97 years young, Bill Cope passed away on July 29, 2020 at The Pines in Bracebridge Ontario. He was predeceased by Elisabeth, his beloved wife of 69 years, who passed away on January 24th, 2020. He will be lovingly missed by his children Dave (Sharon Orcutt), Katie (Bev MacWilliams), and Marg (Doug Bennett). He was the cherished grandpa of Alissa (Scott Baird), Shawn (Jen Brandt), Kim and Katy (Chris Divjak), and proud great grandpa to William and Nicholas Bennett.
Bill was an active, participating member of The Greatest Generation. As a child, he survived polio. As a young man, he served as an RCAF navigator during WWII. Following the war, he entered the workforce and advanced himself through various companies and locations in the field of high-end retail. Retiring early, at the age of 46, he moved his family to Huntsville. He then took a position with a Wall Street brokerage house as a management consultant on a part time basis.
An avid sportsman, Bill loved to hunt and fish and would go far afield to pursue these activities; he was a downhill skier, a golfer, an auto enthusiast, a sailor, a private pilot, a boat builder/restorer and a gunsmith among numerous other talents. He also had an incredible love for dogs, any dogs, all dogs and they always seemed to reciprocate.
Cremation has taken place and in keeping with Bill's wishes there will be a small family gathering, where we will celebrate the legacy of Bill's life.
Memorial Donations would be gratefully accepted by The Huntsville Hospital Foundation or any Dog/Animal Shelter near you.
LEGGETT, Bryan
On July 22, 2020, Bryan passed away peacefully at home after a year and a half struggle with cancer, surrounded by his family and close friends.
One of Bryan's true loves was the game of golf which led him to the opportunity of receiving golf scholarships in the U.S. After university he returned to Toronto to acquire his law degree at Osgoode Hall and had a rewarding legal career, including receiving the recognition as Queen's Counsel. Bryan was always ready to help when he saw a need, giving generously of his time, thoughtful counsel, and financial support. He was the founder and developer of Beacon Hall Golf Club in Aurora, one of Canada's premier golf courses.
Bryan had an insatiable zest for life which he and his wife Julie explored as private pilots, taking them on many great adventures. Their shared love of boating, skiing and cycling brought them much joy and many happy times together.
Bryan will be lovingly remembered by his wife Julie, his sons Jason and Christopher, his grandson Jackson, daughter-in-law Susie, his sister-in-law Jody, her husband Stephen and their 2 sons Benjamin and Tomas, his brother Jeff, and close friends Deb, Paul, Maddi and Karen.
We are very grateful for the amazing care and support of Dr. Marion Baechler, Bryan's nurse, Megan, and his medical support team who looked after him at home with such compassion. He spent many weeks in Huntsville Hospital, and received incredible care from the medical team and support staff, as well as our community's kind and professional paramedics who responded to his needs at home.
Neighbours and friends in the community were a vital support to both Bryan and Julie throughout his illness. In respecting Bryan's wishes, there will not be a public service. Memorial donations to the Huntsville Hospital Foundation would be greatly appreciated. www.mitchellfuneralhome.ca
WATSON, Raymond Edward "Ray"
Passed away suddenly on July 28, 2020 at Huntsville District Memorial Hospital in his 62nd year. Ray was born on October 11, 1958 in Huntsville to parents Jackie & the late Ted Watson. Ray will be dearly missed by his brothers and sister; Robert (Berna), Stephen (Carol), Karen (Bob) and the late Kathy. Loving uncle and great-uncle to many.
A celebration of life will be held on Sunday, August 2, 2020 at 208 Fowlers Road in Huntsville from 1-3 p.m. Please bring your own chair. Refreshments are available; however, BYOB. Please join us by raising a glass to Ray. Messages of condolence can be left at www.billingsleyfuneralhome.com
Della Sawyer 1948 – 2020
Della May Elizabeth (Nickason) Sawyer on June 28th , 1948 Dick and Helen Nickason welcomed a baby girl. They named her Della May Elizabeth – after her granny Elizabeth Stevenson and her nana May Nickason. She is a tribute to both of those women. Della was the second child. Her older brother is Leslie (Wilma) and her younger siblings are Eric (d) (Pat); Billy (Grace); Brenda (d) (Barry Ross); Lonnie; Norma (Bill Van Alstine); Cheryl (Ted Spalding); and Mary Ellen (Tim Wright).
Della was raised near Deer Lake on what is now known as Stephenson Road 1 East. When Della married Norm Sawyer on March 27th, 1965, they built a house next door to her mom and dad. They raised three children – David (Diane); Paul (Kelly) and Wendy (Rob Jung) – with plenty of love and laughter. Now they are proud and loving grandparents to 8 grands and 2 great-grands. The love flows in both directions, as the grandchildren love coming for sleepovers. Della's life has always been fully entwined with family, and that gave her great joy.
Just like her mom, she loved the horses and dogs and chickens that were a part of her country life. From her first horse Chief to her last horse Ebony, she loved to be on and around horses. She looked forward to an annual long-standing tradition to go horseback riding with friends and family every summer. She also loved her German Shepherd dogs many of which she owned over the years . She enjoyed her chickens as well, although we hear that the chickens were more obedient for Norm than Della!
Other outdoors activities that made Della happy were as varied as cross country skiing, snowshoeing, and hiking as well as 4-wheeling and riding motor bikes – from her kids dirt bikes to street bikes. Through more recent years, Della also enjoyed "cousin caper" outings with her loving siblings and cousins. Full of energy and laughter, Della loved to be active outside. More recently, Della and Norm tried their hand at beekeeping and one year their hives produced 180 lbs of honey! They both enjoyed time together on their annual trips to Cuba where they formed lasting friendships with some of the locals there.
Della began working as a teenager at Divine Lake Lodge – lots of teens in the Port Sydney area got their first jobs there. Later, Brenda encouraged her to come to Hidden Hitch, where she started at an entry level job and worked her way up the Human Resource manager. During her 28 or so years at Hidden Hitch, she took many college and university courses that related to her job. During her learning process, Della also reached out to help adults learn to read and she got back a huge amount of enjoyment from helping them learn. After she finished at Hidden Hitch, Della went to work at FanoTech in Bracebridge until she "retired to stay active".
Della and Norm built a few homes and moved around the Port Sydney and Huntsville area, but never out of it. Their first home was built beside her mom and dad. They built their current home on Stephenson 12 East where she also had the enjoyment of having her horse, her dog, her chickens and her bees there.
Talking about the joys in Della's life would not be complete without celebrating the great peace she found in her relationship with the Lord. Della was saved in her early teens. Then a few years later she enjoyed many years of fellowship at Deer Lake Gospel Hall until she was no longer able to attend due to health implications . For many years she held a Wednesday afternoon Ladies Bible Study in her home right up until Covid-19 forced the disbanding of many social groups.
Three years ago, Della was diagnosed with PLS (a disease related to ALS – Lou Gehrig's disease) but instead of wading through details and arming herself with worry for the future, Della concentrated on enjoying every moment that she had, and relying on the Lord to help her through the coming days. She accepted and graciously faced the journey that would lie ahead.
During COVID-19, visitations and funeral services are conducted on a schedule and by appointment only. For those not wishing to attend the funeral service, there will be visitation on Sunday, July 26, 2020 at Billingsley Funeral Home. Scheduled visiting times start at 3:00 p.m. – 3:45 p.m., 4:00 p.m. – 4:45 p.m., 5:00 p.m. – 5:45 p.m., 6:00 p.m. – 7:00 p.m. Following provincial guidelines the funeral service will allow a 30% capacity while social distancing measures are observed. The funeral service will take place on Monday, July 27, 2020 at 1 p.m. at Faith Baptist Church. Please call Billingsley Funeral Home at 705-789-8982 to reserve a seat. The interment will take place following the funeral service at Stephenson Cemetery in Port Sydney. The family asks that any memorials be in the form of donations to Huntsville Hospice, where she and her family have received only the best of care from Norma and the palliative care teams. The family is also grateful to Dr. Varieur who even made house calls to Della during COVID-19; to the PSWs who gave such good care; and to Closing the Gap organization. Messages of condolence can be left at www.billingsleyfuneralhome.com
Many thanks to Billingsley Funeral Home for their support. No words can express the appreciation for all the prayers and kindnesses of her Christian family, and to all of her family and friends for their loving care during this difficult time.
LEONARD, Layne G.
It is with deep sadness that we share the passing of Layne George Leonard born June 20th, 1953 in Lindsay Ontario. Layne passed away peacefully in the exceptional care of the staff at Algonquin Grace Hospice on July 18th 2020. Layne lived an adventurous life that touched so many people. He was uplifting, kind, and generous. Layne was born the youngest of five children to Alfred and Eleanor Leonard (predeceased.) Layne made many marks on this earth traveling around the world and utilizing his many tremendous talents. Not only did Layne work for the likes of Bob Dylan and other wealthy clients as a gourmet chef, bodyguard and driver. He was also a certified martial arts third-degree black belt, and an amazing artist. In addition, he became an entrepreneur running a few successful barber shops. On the side he was an entertainer as an accomplished piano player. Later in life, he met Heather Fraser who he married and they had a beautiful daughter Zoe, who was the apple of his eye. In the early days of Zoe's life many people would remember Layne as the dad carrying "the little red head" in yellow rubber boots around Huntsville. Layne also had a huge love of motorcycling and the world of Harley Davidsons. After the birth of his daughter Zoe he retired from his many jobs to look after his vast property and raise his daughter as well to help with the family business. During that time he became increasingly interested in the sport of hunting both with rifles and bows. That led him to joining the Eagle Lake Gun Club where he developed some top level skills in competition shooting with the IDPA. As a direct result, Layne made some of the best friends in his life. He was a wonderful husband and father, a hero uncle, a solid brother, and a reliable friend. During Layne's battle with cancer his strong faith in god kept him positive and happy. He was one of the strongest people anyone could ever meet and even during his final days he kept true to being this man as Layne refused to take any medication to keep him out of pain. Not a single day will pass where he won't be remembered for his love of his family, his compassion for animals, his unique sense of humour, his crazy laugh, and his infectious smile.
As per Layne's request there will be no service. If you wish, a donation in Layne's memory to Algonquin Grace Hospice would be greatly appreciated. Godspeed Layne Leonard. www.mitchellfuneralhome.ca
WAGG, Steven Eric
It is with great sadness that the family of Steve Wagg announces his unexpected passing, on Thursday July 2, 2020, at the age of 62 years. Steve will be lovingly remembered by both his brothers, Owen and Miles and sister Carole, survived by children Stephanie and Eric. Steve had a great sense of humor, and was upbeat and loved people. He would talk to anyone. He was the type of person who would offer help in any situation. Steve will be fondly remembered for his passion of hunting and outdoors lifestyle. Steve was predeceased by his father George Wagg and mother Audrey Ashby. Messages of condolence can be left at www.billingsleyfuneralhome.com
DENOMME, Ernest Herbert "Ernie"
Passed away peacefully at his home in Huntsville on Tuesday, July 7, 2020 in his 77th year. Ernie is survived by his son Paul (Scott) Denomme and stepson's, Kevin (Ruth) Morgan, Rick (Myra) Morgan and Phillip (Vicky) Morgan. Also survived by his brother Ray (Trudy) Denomme. Ernie will be dearly missed by his friends Amanda and Michelle. Pre-deceased by his parents Kenneth and Doloris Denomme (nee Hiehn) and siblings, Rosanne and Richard.
A graveside service will take place on Thursday, July 16th, 2020 at 1 p.m. at St. Patrick's Roman Catholic Cemetery in Kearney. As an expression of sympathy memorial donations can be made to Muskoka Seniors Home Assistance or the Table Food Bank Soup Kitchen. Messages of condolences can be left at www.billingsleyfuneralhome.com
TIPPER, Inez "Eleanor" (nee Cousins)
Passed away, with family at her side, on Sunday, July 5th, 2020 at Algonquin Grace Residential Hospice in her 91st year. Beloved wife of Reginald Tipper who predeceased Eleanor in 2002. Loving mother of John (Joyce) Tipper, Barbra (Reed) Richardson and Gary (Diane) Tipper. Proud granny of Amy (Josh), Ann (Brandon), Keith (Soizic), Jared (Tanya), Joel, Bryan and Cheryl. Great-Granny to 7 great-grandchildren. Eleanor is survived by her siblings Norm, Bert and Mary. Pre-deceased by her parents Edward and Susan Cousins and siblings, Miriam, Beth and Bill.
In keeping with Eleanor's wishes, cremation has taken place. A private graveside service will take place at St. John the Baptist Anglican Church. As an expression of sympathy memorial donations can be made to Hospice Huntsville. Messages of condolence can be left at www.billingsleyfuneralhome.com
BECHTEL, Jean Catherine (nee O'malley)
The death occurred peacefully on Monday, June 29, 2020 at Oak Terrace in Orillia. Beloved wife of Tim (2010). Dear mother of Greg, Brenda, Reg (2016), Darrel,Terry, Tim Jr., Judy and Keith. She will be missed by her many grandchildren and nieces and nephews.
Cremation has taken place. In keeping with mom's wishes there will be no public service. As an expression of sympathy memorial donations can be made to a charity of choice. Messages of condolence can be left at www.billingsleyfuneralhome.com
BENNETT, Heather Joan (nee Hurst)
Gone too soon and missed by many, Heather passed away peacefully in the early hours of June 26th with her husband and children by her side. She was in her 67th year. She leaves behind her husband, Terry, children Elissa (Mike) McDowall and Brandon (Janis) Bennett as well as 5 grandchildren and her sister Caroline (Bob) St. Clair, and nieces and nephews.
Heather was an original member of the Huntsville Community Band where she expanded her horizons by learning to play the clarinet. She also joined the Muskoka Rock Choir in season 2. In addition Heather also enjoyed her weekly Majong socials. Those three activities provided her much pleasure and cherished new friendships.
Heather also had a love for nature, she loved going for scenic drives with her husband in an attempt to catch a glimpse of any wildlife, or spending time just looking out their kitchen window at the many birds at the feeders. They also spent many mornings together just relaxing on the front deck, enjoying a good book or just taking pleasure in each other's company.
Fond memories were made over the years at Harp Lake with many friends and family. Game nights, Dinner Parties, and countless celebrations took place.
Born in Toronto, Heather spent her early years in Newmarket and moved to Huntsville in 1965. She attended Spruce Glen Public School and Huntsville High School. It was at H.H.S. that she met Terry and since then she was 1/2 of a perfectly matched couple.
People who knew her will remember Heather as headstrong, loyal, honest, creative, funny and a lover of animals.
The family would also like to express their sincere appreciation for the nurses in the Chemo lab at Huntsville Hospital who's genuine compassion was truly felt by Heather. Appreciation also goes out to Doctor Sanjay Jindal, Doctor Megan Stephenson as well as the nurses and PSWs at Algonquin Grace Hospice Huntsville, for their compassionate care.
If you wish, donations would be greatly appreciated to Algonquin Grace Hospice Huntsville, or a Wing and a Prayer Muskoka's Bird Rehabilitation Centre.
A celebration of life to be held at a later date, please keep an eye out on Mitchell Funeral Home website for further details. www.mitchellfuneralhome.ca
ROBERT (BOB) LOUIS FRANKLIN NEWMAN, 1926-2020
Robert passed away peacefully at his residence at Valley Stream Manor in Ottawa on June 23 after a long, fulfilling and accomplished life. Born on October 14, 1926 in Sprucedale, he was the son of Laurie and Rosalie Newman. He was predeceased in 2013 by his beloved wife, Dorothy Mary Thompson, daughter of John Alex and Elizabeth Alice Thompson of Lake of Bays. He will be dearly missed by son David and his wife Alice, daughter Susan and her husband Rob Fortin, grandchildren Samantha and Jason Corrigall, Jennifer Newman and Kier Martin, Alex Newman and Megan Sumiko Fulleringer, Dan Fortin and Zazu Myers, and Joe and Sarah Fortin. He was an adoring and adored Papapa to great-grandchildren Alistar Newman, Keiralese Martin and Evelyn Corrigall. He was very close to Dorothy's family, especially Lil and Don Boothby, Jessie and Jim Allen, and Janet and Neil Bionda and their families. In his professional career, Bob was a pioneer in special education, having served as Superintendent of Education in Simcoe (Barrie), East Parry Sound (Sundridge), and Niagara (Welland), and Principal / Teacher in Richmond Hill, CFS Edgar, North Bay, Timmins and Huntsville. He earned a BA from University of Western Ontario, MEd from University of Toronto and Inspector's and Superintendent's Certificates from OISE. Retired since 1980, he was a skilled woodworker and well-loved resident of Haystack Bay, Lake of Bays for over thirty years. He and Dorothy spent happy years at Muskoka Traditions and he enjoyed his last several years in Ottawa. Bob and his family are profoundly grateful to his care-giving and medical teams in both Huntsville and Ottawa. Any donations can be made to the Huntsville Hospital Foundation or a charity or arts organization of your choice. Messages of condolence can be left at www.billingsleyfuneralhome.com
REID, Wayne Douglas
March 17, 1949 ~ June 21, 2020
Wayne, dearly loved husband, father, grandfather, brother and friend, died peacefully on Sunday, June 21st, 2020 on Father's Day.  We take great comfort in knowing that Wayne went to meet His Heavenly Father on Father's Day.  He leaves behind his wife Diane, two sons Andrew (Donnabel) and Timothy, his spiritual son Devin (Jenn) and two grandsons, Aaron, Daniel, spiritual Papa Wayne to Noah Wayne, brother to the late George, Gloria (Rod), Kenny (Anna) and Norma (Jim).
Wayne started searching for the meaning of life and God in Christ found him when he was 18 while visiting the New Tribes Mission Jungle Camp in Durham, Ontario (now called Ethnos).  He grew and developed in his faith attending Waverly Road Baptist, Knox Presbyterian (where Wayne and Diane were married), Pinegrove Church in Bracebridge and lastly Faith Baptist Church in Huntsville.  Wayne loved children in the church and out the church.  Those in the church, he saw as the future of the church.  He loved teaching sunday school and taught toddlers and upward.  Wayne loved God's word and read his Bible faithfully until the end.  He will be missed.
The family invite friends to a visitation held on Saturday, June 27th, 2020 at Faith Baptist Church from 1 – 2 p.m. followed by the funeral service at 2 p.m.  The burial will follow the service at Baysville Cemetery at 3:30 p.m. A reception will not be held due to the Covid-19 restrictions. Wayne's family encourage friends to wear bright and joyful colours and to dress casual in Wayne's memory.
During COVID-19, visitations and funeral services are conducted on a schedule and by appointment only. For those not wishing to attend the funeral service, there will be scheduled visiting times. Following provincial guidelines the funeral service will allow a 30 per cent capacity while social distancing measures are observed.  Please call Billingsley Funeral Home at 705-789-8982 to reserve a time to pay your respects.
Donations in Wayne's memory can be made to Ethnos (New Tribe Mission) or Gideon's International.  Messages of condolence can be made to www.billingsleyfuneralhome.com
For those unable to attend, Wayne's funeral service will be live streamed using the following link  http://faithmuskoka.ca/waynereid
Romans 5:1-4
Peace and Hope
Therefore, since we have been justified through faith, we have peace with God through our Lord Jesus Christ, 2 through whom we have gained access by faith into this grace in which we now stand. And we boast in the hope of the glory of God. 3 Not only so, but we also glory in our sufferings, because we know that suffering produces perseverance; 4 perseverance, character; and character, hope.
Edward "Jay" Bell
Jay passed away peacefully at home on May 22nd, 2020 with his loving wife Trish by his side. Jay was predeceased by his parents Ted and Bertha Bell and his brother Wayne. He will be deeply missed by his children Jennifer Bell (Tracey McKeen), Jason (Lisa), and Jordan, his siblings Kathy Earl, Bill (Lynn), Rosalie Wheeler (David), and Tim (Vicki), sister-in-law Carol, grandchildren, great-grandchildren, many relatives, friends, and by his loving cat Shadney.
Jay was musically talented and taught himself to play guitar at an early age. He also learned the bagpipes and that gift took him to many places over the years including The Netherlands, where he was honoured to play at the Holten Canadian War Cemetery. As well as The Netherlands, Jay and Trish travelled to Ireland, Germany, and Spain. Jay absolutely loved the time he spent in Spain. He enjoyed being close to nature, loved hunting, fishing, and riding his ATV. He was a good friend to many and always was happy and he lived life with a smile on his face. We will miss his readiness to talk and tell a story or a joke.
Jay and his family were blessed to spend time together over the last few months as he prepared for his next journey. Trish and family would like to thank Allan, MJ, Nurses, Doctors and PSWs who helped and cared for Jay.
If so desired, memorial donations to Ducks Unlimited would be acknowledged as expressions of sympathy by the family. Online condolences may be made at muskokacremationandburial.ca.
Glen Osbern Murdy, 1931-2020
It is with deep sadness that we share the passing of Glen Osbern Murdy. He passed away peacefully in his 89th year on Sunday June 14th, 2020, surrounded by his loving family at the Algonquin Grace Hospice.
Glen was a devoted, loving husband of 67 years to Corinne (nee Aucoin). Proud father of Cheryl (Steve) Taylor, Colleen (Curtis) Gregson, Cynthia Murdy & Rodney (Leigh Anne) Murdy. Adoring grandfather of Jim, Sean, Samantha, Jessica, Abigail, Michelle, Christopher, Nicole & Jason. Great Grandfather of Carleigh & Alexis.
Predeceased by his parents Robert & Florence Murdy, brothers Lloyd
(Norma) Murdy, Ted (Ellen) Murdy & sister Dorothy Hall.
Glen was born and raised on a farm in Fern Glen, Ontario, which is just north of Huntsville. As a young man, Glen moved to the Toronto area where he took a job at the Canadian General Electric Company. It was at that time he met and married the love of his life, Corinne. They later moved to Mississauga where Glen and Corinne raised their family for the next number of years. Most weekends and holidays in the summer, the family would pack up the car and head north to their cottage on the Big East River, just north of Huntsville.
Glen retired in 1991 after 40 years with the General Electric Company and with Corinne, moved back to the Huntsville area that he loved so much.
Glen and Corinne spent their busy retirement years traveling in Canada as well as taking winter cruises or travelling to Florida for a southern holiday.
Glen was a kind, loving father, grandfather, and great grandfather. He was an outdoorsman at heart, who was happiest when he was spending time with his cherished wife and family, taking walks on a bush trail, or telling the grandchildren a story from his early years in the north.
"We will all miss our dear Papa Glen and Grandpa so much …. and you will always be in our hearts."
It would be greatly appreciated that any donations made in Glen's memory were directed to the Hospice Huntsville, 100 Frank Miller Dr, Huntsville, ON P1H 1H7. www.mitchellfuneralhome.ca.
William Larry Blackburn
A proud Navy veteran of WWII, Bill passed away peacefully on June 12th, 2020 in his 96th year. Beloved husband to Marjorie; devoted Dad to Cathy (Brian), Paul (Marji) and Larry (Louise). Forever remembered as Poppa to Jordana, Brandon, Amy, Michael, Keri, Benjamin and Sidney. Affectionately known as Great Poppa to Sofia, Theo, Penny, Barrett, Carson, Valerie and Ivy.
Bill was born and raised in Huntsville by his parents, Arthur and Mae Blackburn with his brother Charlie. He grew up working with his Dad at Blackburns' Marina, later taking over from his father. Bill loved boating and fishing and shared these interests and his love of the water with his children and grandchildren. Bill was a founding member the "Cripple Creek" Hunt Camp.
He was a kind-hearted man, with a great laugh and an infectious smile. He was known as Dad, Poppa and Pops to many but he was a great friend to all. He will be greatly missed by all who knew him.
A celebration of life will be held at a later date. In lieu of flowers, the family wishes that a memorial donation to the Huntsville Hospital Foundation be considered. Messages of condolence can be left at www.billingsleyfuneralhome.com
The death occurred on June 10, 2020 of Peter Eugene Zilney at the age of 76. Peter was born in Cloyne, Ontario to parents Tom Zilney and Helen Hartwick. He was one of 9 children. Surviving him are his brother Lorne (Diane) of Wellington, Ontario, sister Theressia Fox of Wellington and sister Ann (Larry) Guy of Ottawa and sister-in-law Dianne Zilney of Novar. He is predeceased by his brother John and sisters, Lillian Snider, Shirley Baumhour, Beverely Spencer and Elizabeth Zilney. Peter spent his younger years in Prince Edward County before coming to Huntsville.
Peter was a kind and gentle soul who will be remembered as the guy who was always walking around town. He had a route he would walk, sometimes twice a day. He was always ready with a smile and hello to all he met on his walks. He enjoyed breakfast at Family Place when he could, and church dinners a couple times a week.
Peter will be missed by all who knew him especially his many nieces and nephews. A memorial service will be held at a later date. As an expression of sympathy memorial donations can be made to Canadian Mental Health Association Muskoka-Parry Sound, mps.cmha.ca or The Table Soup Kitchen Foundation, www.thetablefoundation.ca Messages of condolence can be left at www.billingsleyfuneralhome.com
BENNETT, Mary Margaret (nee Charron)
Mary Margaret Bennett passed away June 6th, 2020 after battling breast & liver cancer. The following is an excerpt written by accomplished writer, Muskoka historian, and dear family friend Ted Currie:
"A dear friend of our family, former colleague at Bracebridge and Muskoka Lakes Secondary School, keen nature photographer, and celebrant of the good life here in Muskoka, Mary Bennett, the loving wife of Randy, and cherished mother of son Martin, passed away late Saturday afternoon. Peacefully, with family at her side, in the embrace of the natural surroundings she so loved to photograph, as a longtime hobby, comforted by the peacefulness of her country side home, near the Village of Utterson, Mary slipped gently into a deep sleep bringing an end to the suffering she had been experiencing in the last weeks of her life.
"Mary and I were longstanding admirers of the art work and mysterious life of Canadian artist, Tom Thomson, and she gave me a brand new copy of the Tom Thomson Mystery, written by John Little, which was a continuation of the work of his father Judge William Little, in the early 1970s, expounding on the likelihood that the artist had been murdered in that Canoe Lake community, of Mowat, in the heart of Algonquin Park. On that occasion we talked for hours about the circumstances known and unknown that had led up to the fateful evening in July 1917 when Thomson went missing, only to be found nearly a week later floating in Canoe Lake between Little and Big Wapameo Islands. I have researched Thomson's death, and written about it since the mid 1990's, and Mary had been fascinated by the mystery even longer, and profoundly moved by Thomson's art work of Algonquin, Muskoka and Georgian Bay. It most likely influenced the framing of her photographs, which were so artistically presented and thoughtfully shared with her many hobbyist associates, friends and family over the years via Instagram and of course her greeting cards specially adorned with some of her most compelling images, most snapped at her Utterson farmstead, particularly of the birds that visited the beautifully treed property shared with husband Randy and son Martin.
"I got to know Mary during the six months I worked on the manuscript for the history of Bracebridge and Muskoka Lakes Secondary School, back in the spring of 1999, preparing for its publication in 2000, being released on the occasion of the 75th anniversary of its founding on the top of Tanbark Hill, across the road from the Presbyterian Church. I had to clear my entrance into the school through Mary, who also had to answer about a billion and a half of my questions, as she was, after all, the pivotal individual in that school operation, of which she was in so many ways, the active, in-real-time historian of what was going on in that great old building; of which we were both once students. I don't think the book would have been published without Mary's assistance, because she facilitated so many of the requests for information and bookings for regular meetings with teachers having to sneak time for me, in between classes, and other academic meetings. I did thank Mary for her many kindnesses to a frazzled historian trying to make deadline. She was known for her kindnesses by the way, and she was greatly missed when she retired some years back, many teachers feeling the place would never be the same without her efficiencies and appreciated kindnesses shown to staff and students who got to know her over the decades.
"Our family knew Mary had taken ill earlier this spring, and was faring poorly as time went on, confining her to home when in heart and soul, she wanted to be moving about and enjoying the life and times of a retiree with a great deal of ambition and energy to expend. She had lots of plans and was never reluctant to push to get what she wanted, and visit the places she most enjoyed, and that included connecting with family and friends which made her days fulfilling and always fun. She was a bright spirit and had a positive outlook even when things seemed bleak to others. But she imprinted on life and will not be soon forgotten as a kind soul and a fighter for family and homestead, and promoter of the good life here in this beautiful region of Ontario."
Mary is survived by her husband Randy of 42 years, their son Martin, her brothers & sisters including Libby, Colleen, Carmen, Joe, John, Brian, and Ed, and their mother Mary Charron.
A celebration of life will be held at a later date. The family wishes in lieu of flowers that memorial donations can be made to the Canadian Nurses Foundation, to honour the hard work, dedication, comfort and support they give to struggling patients & families across the country.
Messages of condolence can be left at www.billingsleyfuneralhome.com
GOOLD, Russell Lavern
On Friday June 5th, surrounded by family, Russell Lavern Goold passed away at Huntsville Hospice. Russ was an avid hunter/outdoorsman, enjoyed gardening and birds. He was a member of the Southwold Volunteer Fire Department for 19 years, President of the Talbotville Optimist Club, played hockey for the Super Seniors Hockey League for 10 years as well as playing shinny hockey in the super seniors hockey league in Huntsville and was a member of Trinity United Church.
Russ and Connie travelled the world, their best trip was to South Africa with Australia and New Zealand a close second.
Russ worked at General Motors and General Dynamics as a draftsman. Russ leaves behind his wife Connie, his children, Tricia D'Amour, Trevor Goold (Jennifer), Todd Goold (Stephanie), his stepson Phil Adams (Kristin). His sister Beverley McFarland of Phoenix Arizona and eight grandchildren. Pre-deceased by wife Barbara Goold, parents Walter and Geraldine Goold. Donations in Russ's memory to the Huntsville Hospice would be greatly appreciated. www.mitchellfuneralhome.ca
View our archive of obituaries at the links below: