Save Money and Energy This Summer
An energy efficient house is the top priority for many homeowners during the winter months, and specific actions are taken to ensure that energy bills remain as low as possible. Typically, the average homeowner completes checklists of suggestions from their energy providers in the fall, but often fail to realize that there are many energy-saving measures that one can take to make their home more energy efficient during the summer months as well.
Close Your Windows
When spring arrives and the temperatures start to warm up, it is refreshing to get some fresh air flowing through your home. However as temperatures get warmer during the summer months, your house can easily trap the heat from the sun and make your home very uncomfortable. When the sun is shining into your windows, be sure to close them as well as the blinds to keep some of the heat out of your home. When temperatures cool off at the end of the day is when it is ideal to open the blinds and get air moving, especially if there is a good breeze overnight.
Set Your Thermostat
As many homeowners do in the winter months, it is a great idea to use your programmable thermostat to your advantage and only have your air conditioning working while you are at home to use it. There is not much point in cooling your home all day while you aren't home, so set the thermostat to ensure that your air conditioning comes on one hour before you get home. During the night there may not be a need to have the AC running at all, especially if the outside temperature is cool. Open your windows and save on your natural gas or electricity bill by letting Mother Nature help to cool your home.
Go Window Shopping
With efficient windows and thick window coverings, you can keep the hot temperatures at bay. Older windows, particularly single-pane, as well as damaged ones, will allow the hot air to enter your home (just as they would let the cold air in during the winter months), and are often the number one culprit with respect to inefficient heating and cooling. Replace the bigger windows first, as they can be the least efficient in maintaining temperatures, and consider tinting a window or using blackout window coverings as these measures will pair well with an efficient window to ensure that you stay as comfortable as possible, irrespective of the season.
What's in your Attic
It's important to ensure that there is enough insulation in your attic. Yes, this will keep you warmer in the winter, but it will also keep you cooler in the summer. If you are paying to cool the air in your home, you don't want that cool air being overtaken by a hot attic. Adding some insulation yourself, or paying to have it done professionally can be a great investment in your home. You will see immediate savings in your energy bills, but more importantly, you will be much more comfortable in your home year-round.
Keep It Moving
It is important to keep air moving in your home during the heat of the summer. Whether you use your furnace, or AC unit, the more the air circulates through your home, the cooler it will be. Many furnaces will have a 'circulate' function that will help to pull the cooler air from the basement of the home and move it around the home. Keeping the air moving will also prohibit mould from growing in the more humid areas of the house, such as the basement.
 The Old Standby
Before AC, fans were the way to keep air moving to cool a home. Ceiling fans can help to keep the hot air down and circulate the cooler air in a room. Even with air conditioning, fans can help to keep you more comfortable.   Also, use your bathroom fan to take the humidity out of the air after having a shower, as humidity will always make your home feel warmer than it actually is.
When searching for a new home, air conditioning, new windows and high R value insulation may not be affordable features in your price range; if this is true for you, keep in mind that window air conditioners (properly installed), blackout blinds, and fans come at a lower cost, and when used properly can help to keep a home cool even on the hottest summer days.   When considering upgrades to your home keep in mind that prospective buyers will see value in a home that is more energy efficient, and will be comfortable all year-round—high R value insulation, premium windows and air conditioning are all upgrades that will ensure your home is attractive to potential buyers should you decide to sell.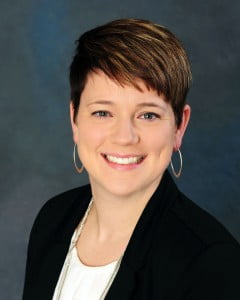 Casey has lived in Huntsville most of her life, and returned in 2012 with her own family. She believes that it is a great place to live, play, and raise a family. Casey has been helping families find their perfect home since 2014. Whatever her clients need—be it their next family home, downsizing for empty-nesters, vacant land for development, or a recreational property—it is Casey's mission to find what works best. Her knowledge of Huntsville and surrounding area gives her an unique advantage, resulting in her being able to find a property that meets the needs of the whole family. Casey is the proud mother of an energetic, curious 3-year old, and will welcome a new addition in early 2016. She loves to spend time with her family on the shores of a Muskoka lake, a hiking trail in Algonquin Park, or making memories on a family vacation.
Casey Jagosky – Sales Representative, Coldwell Banker Thompson Real Estate, Brokerage can be reached at (705) 571-4396 or by e-mail: [email protected].