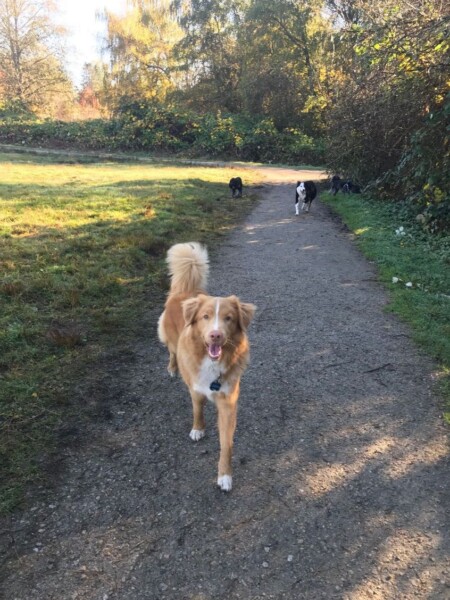 Dog walking and your health
Many studies have shown that dogs can improve your heart health by your getting out and walking them.  That activity can help lower blood pressure and cholesterol levels as well as your weight. Having a dog can also help reduce stress and improve your social life.  People who walk dogs invariably stop to talk to others walking their dog. 
Gum disease and stroke
The link between gum disease and increased risk of stroke continues to grow. Large research studies have been done and have concluded that those with the poor dental hygiene will be more prone to having some kind of stroke. This is another situation where choosing to practice good dental health can reap many benefits in other areas of our health.  Have regular dental check-ups and practice good dental hygiene at home.
Liver health
The largest gland in the human body is the liver.  We always call it an organ but since it secretes bile, it is technically a gland. This gland is huge weighing about 1.3 kg and is very effective in clearing out toxic substances and acting as a storage depot for vitamins A, D, E, K and B-12.  When the liver is compromised, vitamin absorption could be affected.
Fertility health
Fertility problems can be due to both sexes. Men are often the cause of women being unable to conceive. This could be due to low sperm motility or just an inadequate number of sperm.  There are home sperm testing devices available even one that works with a smart phone. Talk to your doctor or pharmacist for advice.
Vision and presciption labels
People who are blind or have vision problems hampering their ability to read prescription labels can take heart. Soon there will be talking prescription labels available. These labels have a tiny microchip and antenna built in that contains all the information about the prescription which can be spoken to you.  
Becoming ill after ingesting medicine
What should you do if you take an oral dose of a medication then vomit shortly after? If vomiting occurs within 15 minutes, you should re-dose. If the vomiting occurs after an hour or more, don't re-dose. Enough of the medication will have been absorbed by then. The gray area between 15 and 60 minutes may depend on the type of medication involved. Pharmacists can help here.
Shingles vaccine
This column has always recommended that seniors get the shingles vaccine. New research has shown that as well has lowering the risk of a very painful and long-lasting infection, it could also reduce the risk of stroke as well. Stroke risk reduced by 20% in those under the age of 80.  It was reduced by 10 per cent in those over 80.
Preventable cancers
Tanning is the skin's response to injury. During these summer months, treat your skin with respect. Use sunscreens, broad-brimmed hats, long-sleeve clothing and avoid the peak injury times from 11am to 4pm. Like lung cancer, skin cancer is preventable.
Speaking of cancer prevention, four out of 10 cancers are preventable and cancers caused by the human papillomavirus (HPV) is one of them. This vaccine prevents many sexually transmitted diseases that may cause cancers of the cervix, vagina, anus and penis. Parents are advised to ensure their children under the age of 15 get their HPV vaccine immunization. 
Mouth ulcers
Mouth ulcers can be due to chafing of braces or poor-fitting dentures and can be resolved with a dental professional's help. If it keeps recurring, it might be an apththous ulcer which can be due to illness, poor nutrition or stress.  These are treated symptomatically with special dental creams.  Mouth ulcers can also be a sign of oral cancer especially if you are a smoker. If you are concerned, check with your doctor or dentist.
---
Bill Coon graduated from the Faculty of Pharmacy, University of Toronto in 1984, and was the Faculty's Centennial Scholar that same year.  Bill and his pharmacist wife, Barbara, along with Paul Whitehead, opened Muskoka Medical Centre Pharmacy in 1990. The understanding that medications are only part of the health solution has lead to Bill's interest in fitness and health, both personally and professionally.  Bill's Capsule Comments provide a full range of up to date health information.
Muskoka Medical Centre Pharmacy is conveniently located in the Huntsville Professional Building ~ 348 Muskoka Road 3 North, Huntsville  Phone:(705) 789-1785
Read more from Bill on the Muskoka Medical Centre Pharmacy Facebook page.