When the horn sounded to open the 2010 Muskoka Novel Marathon and Amy Stuart started writing, she had no idea that six years later the work would be a national bestseller.
But the Toronto author's debut novel, a literary thriller entitled Still Mine, has sat on the Canadian bestseller list almost since it was released three months ago, rising as high as number two so far.
"I've been interested in writing my whole life, but stepped away from it for a while after high school," says Stuart, who is also a teacher. After earning bachelor degrees in social studies and education, she took a course in writing fiction at the Atwater Library in Montreal. "I've been taking it increasingly seriously since then."
She did her first Muskoka Novel Marathon in 2006, but she began Still Mine at the 2010 edition. "I came with the allowed one page of notes, and then ideas came at me as I wrote," she says. "My original concept was to write a private-eye/detective type novel but bend the genre a bit, in part by having a woman in the role, but also throwing her into the role so that she's diving in, a total rookie."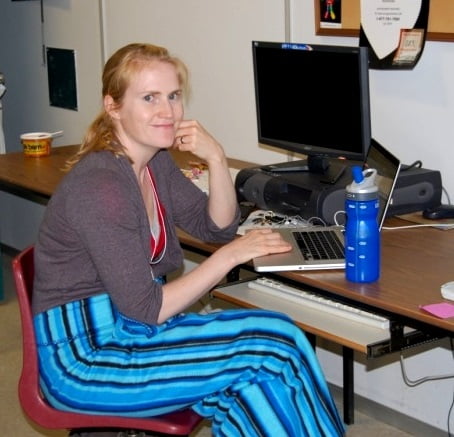 The resulting 50-page work won Best Novel in the adult category. Stuart then presented the book, now grown to 150 pages, as her thesis for a master's degree in Fine Arts. Soon after that she landed an agent, who landed her a deal with Simon and Schuster. She is now working on a sequel, with a third book contracted as well, and her American publisher, Touchstone, will release Still Mine south of the border in July.
"The story has changed somewhat, but fundamentally the key details are intact from that first weekend," Stuart says. "I owe everything to the Muskoka Novel Marathon, as the book would literally not exist without it." Although she isn't participating in this year's Muskoka Novel Marathon, she'll be spending time at her parents' cottage near Dwight working on book two.
Huntsville writer Paula Boon, who co-ran the 2010 Marathon with fellow Huntsville writer Karen Wehrstein, is thrilled. "It's really exciting to know that the Muskoka Novel Marathon helped to get the ball rolling for Amy," Boon says. "She has worked so hard, and we've all been rooting for her every step of the way. Based on the pool of talent and the strong mutual support in the marathon community, I don't think she'll be the last national bestseller we see."
"We aren't just writers helping readers," Wehrstein adds, referring to the Marathon's role as a fundraiser for YMCA Literacy Services in Huntsville, to the tune of $32,000 last year. "We're helping writers. And Amy is providing inspirational proof that the Marathon can be a jumping-off point to a stellar literary career. Go Amy!"
To learn more about the Muskoka Novel Marathon or to make a donation, visit muskokanovelmarathon.com.
Don't miss out on Doppler! Sign up for our free, twice-weekly newsletter here.